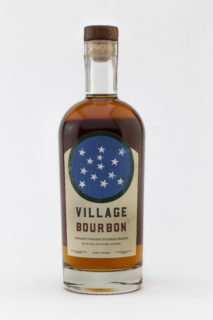 Village Bourbon is made from Vermont corn and rye and aged 5 years in American White Oak barrels.  Crafted from local grains and water sourced from Bolles Brook, a natural stream on Woodford Mountain overlooking Bennington, this spirit displays a buttery smoothness, tempered with black pepper and toasy carmel.  The finish is fresh and warm.  A noticeable oak flavor with a hint of sweetness.  Due Summer 2023
Village Garage Distillery 
One wintery Vermont Christmas Eve a few years ago, Village Garage founders Glen Sauer and Matt Cushman shared their dream of opening a craft distillery in their hometown of Bennington, Vermont. Glen knew of the perfect spot – the historic "Village Garage" near the four corners of downtown Bennington. Originally a tractor dealership that had served the local farm community, in recent decades it had been used to house the town's old highway equipment.
The stars on our label come from the flag the Green Mountain Boys, our forefathers, flew when fighting for our nation's independence. They also represent the sky over the lands our families farmed for over eight generations, right here in Bennington, Vermont. Village Bourbon is made to represent the history of our state.
Click here for more Bourbon Flight news.
$2.3 billion in capital projects have been completed or are planned over the next 5 years.