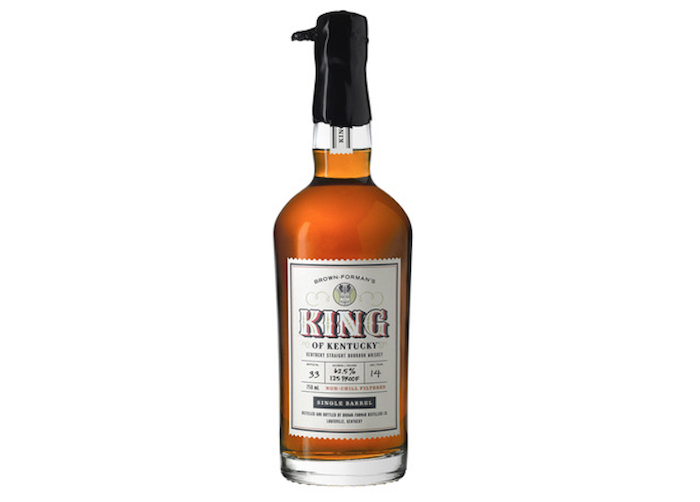 The King of Kentucky bourbon brand recently released its fourth edition a 14-year-old Kentucky straight bourbon. The limited release has produced just 2,700 bottles.
King of Kentucky is an annual, periodic release of a single barrel inventory featuring a barrel-strength, minimally-filtered proof presentation, with each release and every barrel being described as unique.  For this year's iteration, Brown Forman Master Distiller Chris Morris chose 33 barrels to set aside for the limited-release product.
"This year's release comes from two production days-14 years ago-but a mere twelve days apart," said Master Distiller Chris Morris in a prepared statement. "Given the fact that each bottling is of a single barrel, the very slight difference in age is undetectable. All the barrels that were selected for this year are of the highest quality."
Each year, there is no defined annual volume, as it varies by barrels chosen. The package will also show what the brand calls personal craftsmanship and tells the story of its origin through the details on the front and back of its package.
King of Kentucky was established in 1881 as a Kentucky Straight Bourbon Whiskey. It was later acquired by Brown-Forman in 1936 from Selected Kentucky Distillers and by 1940 converted to a blended whiskey until it was discontinued in 1968. In 2018, Brown-Forman revived the label and now pays homage to the brand's past.
The bottle will be filled, bottled, wax-dipped, and numbered by hand with details including proof, age, warehouse location, lot number, serial number, and barrel number, all selected by Master Distiller Chris Morris.   
Tasting Notes: 
Aroma:  Deep notes of dried 

fig, dark caramel,

 and vanilla bean with a 

light chocolate

 sweetness all sharpened with a hint of caramelized orange and lemon peels and a pinch of 

cinnamon

.
Flavor: Dark caramel and 

dried fruit

 coat a layer of dark baking spices and 

toasted coconut

 notes

 brightened with crisp notes of citrus

.
Finish:  Crisp and dry with a hint of 

apple and citrus fruit.
Click here for more Bourbon Flight news.
$400-$1,200 is how much the average tourist spends on their trip.