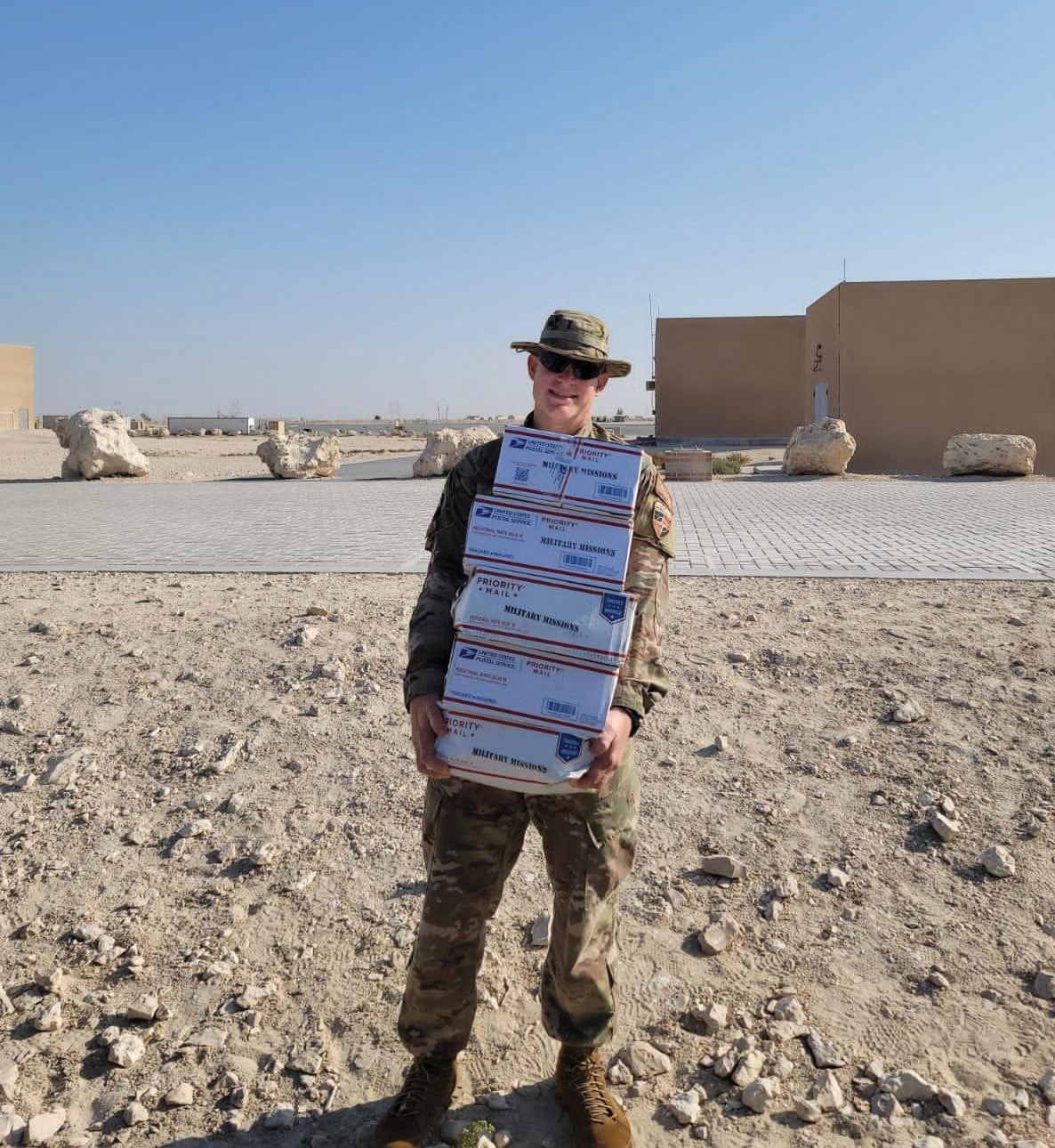 In November 2004, a Lexington mother of a U.S. Marine realized the need to support her son and his fellow Marines during their deployment. Shortly thereafter, Military Missions was born in Beth Pennington's kitchen. Growing little by little each year, the organization now serves deployed military personnel by sending approximately 8,000 care packages per year. The goal of Military Missions is to support and honor active-duty military members and veterans by involving the community in activities and events that will give civilians an opportunity to express their gratitude for the sacrificial service of those who wear or have worn the uniform.
The organization is an IRS-approved 501(c)(3) nonprofit that is entirely supported through donations and completely operated by volunteers who coordinate the packaging and shipment of care packages to deployed military personnel. The care packages include items such as candy, snacks, single-serving drink mixes, playing cards, pocket Bibles and puzzle books.
Large care-package shipments are sent at least quarterly or more often if inventory allows. These shipments are referred as Operation SEND: Sending Encouragement to our Nation's Deployed.
Military Missions also supports veterans at local Veterans' Affairs centers and a veteran's wing of a homeless center. Gift bags are prepared containing socks, T-shirts, hats, gloves, personal care items, candy and snacks, and are very needed and appreciated by the veterans.
Here, board President Karen Sparks explains more about Military Missions and how individuals and businesses alike can help support our military personnel.
TLR: What are your current needs as an organization? How can people get involved?
Karen Sparks: Our needs consist of three parts: donations, volunteers and deployed personnel info. Donations can be either monetary or products. We need donated items to fill the care packages or funds to purchase them. Since COVID began, donations have dropped dramatically, forcing us to purchase items that were normally donated. Monetary donations also cover the cost to ship the packages overseas. An individual package costs about $10 to ship. It costs between $35 and $70 to ship larger unit packages, depending on the destination.
We want to support as many deployed men and women as possible, but we need their info to do so. If you have a friend or loved one who is deployed, we would love to send them a care package. Submit a care package request via our website at militarymissions.org/services/add-a-hero/ or email us as [email protected]
Finally, we need volunteers to make everything come together, whether it's staffing the office for a few hours, manning a fundraiser booth or packing the boxes. Currently we need several more volunteers for the office schedule. You can choose to volunteer for a couple hours a week, or once a month, whatever works best for you. More info about volunteering can be found at militarymissions.org/help/volunteer/.
TLR: How can the business community help support Military Missions?
KS: We could not survive without the help of the business community. Some companies allow their employees to make contributions via their payroll system. Many businesses organize collection drives, encouraging their employees and the community to participate. We also have a program called Operation Dropbox, in which a business allows us to place a collection box at their location to encourage donations of care package items.
We are also looking for local businesses willing to host our Dip Jar for a few weeks. This is a small electronic device that allows contactless donations via a debit or credit card. It allows us to reach people that we normally wouldn't be able to.
TLR: Does Military Missions have anything special planned to send the troops for the upcoming holidays?
KS: The holidays are our busiest time! Operation SEND Christmas is usually our largest shipment of the year. We want the troops to know they are remembered during the holidays when they cannot be at home with their families. Along with the usual care packages, we also send a "Buddy Box." This is an extra package for them to share with a buddy we may not have on our mailing list.
During the holidays we also do our annual Adopt a Hero program. This allows donors to select a male or female and do their own shopping to create a care package. We provide a list of items that can be included. They purchase the items and deliver them to our office, along with a set amount to cover the shipping cost. If the donor doesn't have the time to shop but still wants to participate, they can donate a different preset amount that covers the cost of the items and the shipping. We will then gather all the items, create the package for them, and send it to their adopted hero. Each care package will have a card inserted that lets them know it was created especially for them by the donor.
TLR: Can you share a story of how Military Missions has made an impact on service members?
KS: Over the years we have received so many thank you notes from the care package recipients. They express their gratitude for someone who doesn't even know them to take the time to write a letter and send a care package. These notes are truly heartwarming, but sometimes also heartbreaking as we often hear that our box was the only package they received during deployment. You just cannot imagine how much one small care package can mean to someone.
Each care package we send includes at least 10 hand-written cards and letters. The troops treasure these letters, reading them over and over during their deployment. They especially love the cards created or drawn by young kids.
Even though Military Missions has been in Lexington for all these years, many people still do not know we exist. We would appreciate everyone taking a minute to share our name and mission with a neighbor, a friend or a family member. Introduce us to your church or school. If you have social media, please find us on Facebook, Instagram or Twitter, and share our info there as well.
Click here for more Kentucky business news.