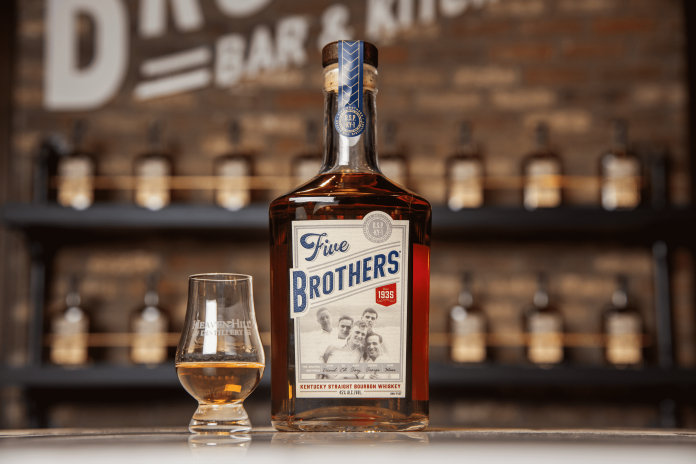 Heaven Hill Distillery announced the release of Five Brothers Small Batch Kentucky Straight Bourbon Whiskey. A small-batch blending of five ages of Bourbon, Five Brothers Bourbon pays homage to the courage, dedication, and solidarity of the five Shapira brothers who started it all in 1935.
Five Brothers Bourbon is comprised of Heaven Hill's traditional Bourbon mashbill aged from five- to nine years old to represent each founding brother. Bottled at 90 proof to reflect the initial proofs of Heaven Hill releases in the early stages of the distillery, the new small batch is a callback to the beginnings of Heaven Hill's award-winning portfolio.
"In 1935, my father and his four brothers invested in a speculative venture that today is the largest family-owned and operated distillery in America, Heaven Hill Distillery," said Max L. Shapira, Heaven Hill President. "With patience and perseverance, they built the foundation for the nationally acclaimed American Whiskey portfolio we enjoy today and a legacy built on consistent quality and innovation."
The most striking detail of the premium bottle is the face label feature of a black and white photo of the five Shapira brothers when they were in their 20's and early 30's: David, Ed, Gary, George, and Mose. The beautiful packaging also showcases complementary nods to the 1930s with vintage paper face and back labels, an Americana color scheme, and a classic navy and gold tax strip to seal the cork.
Click here for more Bourbon Flight news.
Click here to sign up for The Bourbon Flight Newsletter (coming January 2022).