Staff report
BARDSTOWN, Ky. — Heaven Hill Distillery plans to hire permanent replacement distillery workers in Kentucky because contract negotiations with its union workers have failed to produce an agreement.
The United Food and Commercial Workers (UFCW), the union that represents the 420 distillery workers who have been on strike for more than five weeks at the company's main facility in Bardstown, issued a press release condemning the move, calling it "an attempt to push longtime employees out of jobs."
Union workers voted last month to reject the company's five-year contract offer. The union has been negotiating with Heaven Hill for six months. The dispute mainly revolves around health care benefits and worker scheduling issues.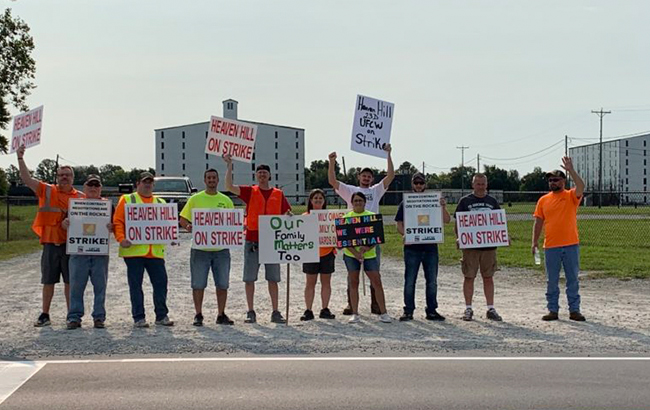 UFCW Local 23D, the union for these workers, announced a new #StepUpHH grassroots campaign that has sparked 5,593 emails demanding that Heaven Hill restore employee health care benefits and help end the strike by reaching an agreement.
"The contract proposed by the company threatens good jobs in our community by cutting overtime and trying to divide workers with unclear and potentially unfair scheduling," said Matt Aubrey, president of UFCW Local 23D.
He said the union is willing to meet with company negotiators to continue talks.
According to the Associated Press, Heaven Hill said Monday that it had negotiated in good faith with the union, but the sides have been unable to reach an agreement.
"We've heard from our employees in the community that they are in favor of the proposed contract terms and eager to return to work," said Heaven Hill President Max L. Shapira. "Given the long-standing and positive working relationship Heaven Hill has with its employees, it is disappointing we were unable to reach an agreement with union leadership."
The Bardstown distillery produces Evan Williams, one of the top-selling brands, as well as Elijah Craig, Old Fitzgerald, Henry McKenna Single Barrel, Bernheim Original Wheat Whiskey, Rittenhouse Rye, Heaven Hill Bottled-in-Bond, Larceny Kentucky Straight Bourbon, Parker's Heritage, and others.
Bourbon is an $8.6 billion industry in Kentucky, generating more than 20,100 jobs with an annual payroll of more than $1 billion, according to the Kentucky Distillers' Association.
Click here for more Bourbon Flight news.
Click here to sign up for The Bourbon Flight Newsletter (coming January 2022).