SOMERSET, Ky. — Gov. Andy Beshear joined leaders from the Somerset community in congratulating Horse Soldier Bourbon on the official groundbreaking of a new $200 million tourism development project that will bring new jobs, bourbon, and tourism dollars to Pulaski County.
"I want to thank the team at Horse Solider Bourbon for their service to our country," Beshear said. "We are excited that your next chapter includes making Horse Soldier Bourbon in Somerset and investing in the commonwealth – your story reinforces our belief that Kentucky is truly destined for greatness."
In recognition of the 20th anniversary of their insertion to Afghanistan, Horse Soldier Bourbon is coming back to the Cumberland River where it all started. On Sept. 11, 2001, the Horse Soldier team was training on the Cumberland River when the call came to defend our nation in its darkest hour. Now, 20 years later, they are coming home and bringing their award-winning, ultra-premium bourbon to Kentucky.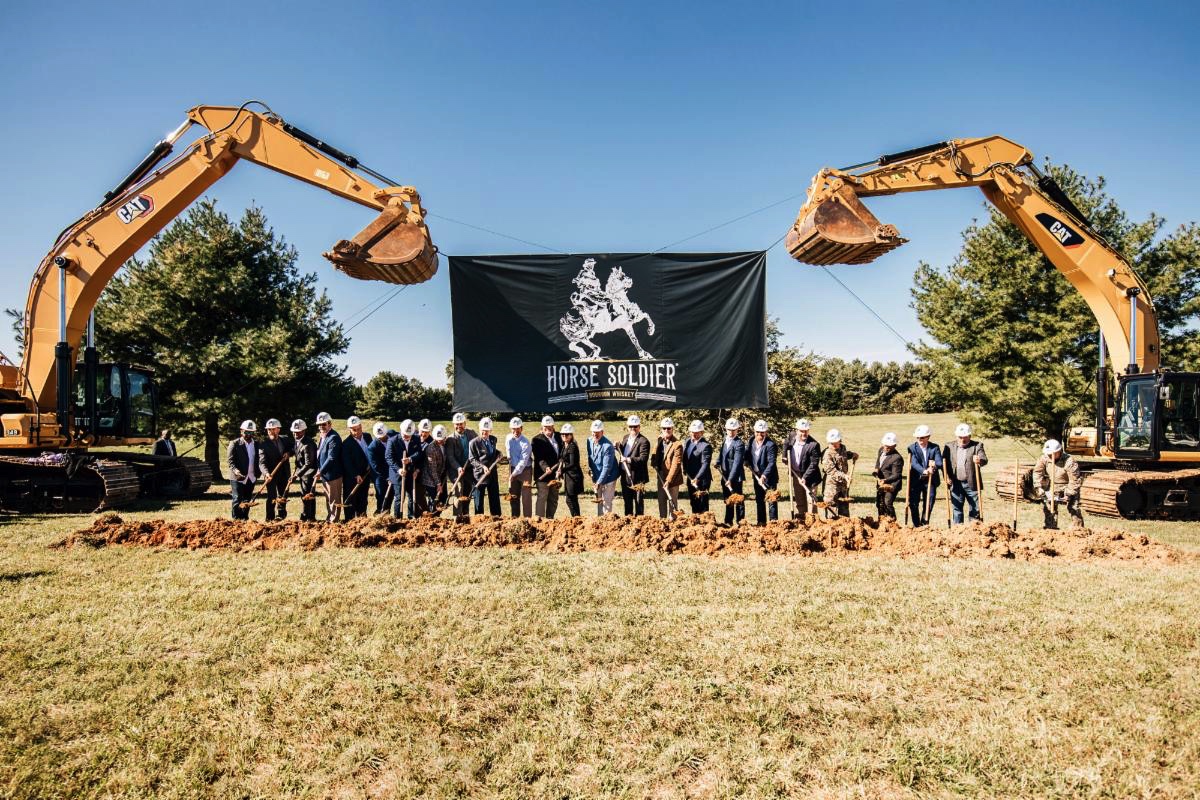 "We are every person you've ever known in your family," said John Koko, president and CEO of Horse Soldier Bourbon. "We're average guys. It was just our turn to do something. And we are proud to be doing it in a place where our story so naturally fits. Horse Soldier Farms will make this already outstanding community stronger and better, with the values its people have always had — values that are also important to us. We are honored to come home, to make our dreams a reality in Somerset."
Horse Soldier Bourbon unveiled plans for a Somerset-Pulaski County distillery that will consist of a 27,585-s.f. distillery visitor center; 4,600-s.f. activity center; 5,000-capacity amphitheater; 500-person outdoor event space; an adventure center, 3,200-s.f. wedding chapel; 60-key luxury lodge and 20 cabins, and a retail village.
"The American heroes behind this company are the epitome of valor and hope during difficult times," said Congressman Hal Rogers. "We are proud to welcome these Horse Soldiers home to Southern Kentucky to continue their pursuit of the American dream, as they grow this veteran-owned and operated company."
Currently distilled in Columbus, Ohio, Horse Soldier Bourbon will transfer its operations to Somerset following completion of the $200 million distillery project. The new distillery will complement Lake Cumberland as the premier, off-the-water attraction in Somerset bringing new jobs, bourbon, and tourism dollars to the Somerset community.
"Horse Soldier Farms has, from the beginning, been a project that challenges people to believe anything is possible," said Somerset Mayor Alan Keck "That has been a key part of my vision for this community, and it's what makes this partnership so special. I'm grateful the Horse Soldier team has been willing to dream big with us. As these two stories intertwine, as we forge our path to becoming a Kentucky Bourbon Trail experience, we will continue to build excitement and a more enduring legacy for Somerset."
Eric Gregory, president of the Kentucky Distillers' Association, said the historic trade group is proud to welcome the Horse Soldier family to the commonwealth and thanked them for their service to our country, impressive investment, and visionary tourism plans.
"Here we have true American heroes who have come together to produce America's only native spirit: Kentucky Bourbon," Gregory said. "With this endeavor, the team at Horse Soldier brings a bold sense of adventure and an all-American dedication to preserving Kentucky's legacy as the one true and authentic home for Bourbon. We're honored that they chose our beloved Bluegrass as their home, and we look forward to adding them to the KDA's world-famous Kentucky Bourbon Trail experience."
SPEDA President and CEO Chris Girdler said he envisions an economic ecosystem building around the Horse Soldier Bourbon project, providing direct and indirect benefits to the entire Lake Cumberland region.
"It has been an honor getting to know the team from Horse Soldier over the last two-plus years, learn their stories and follow their phenomenal success in business and in life," Girdler said. "While they could have selected any community in the world in which to produce their award-winning bourbon and create an amazing visitor experience, we are grateful they chose Somerset, Ky., in which to do that."
Upon the recommendation of the Tourism, Arts and Heritage Cabinet, Horse Soldier Farms LLC received approval from the Kentucky Tourism Development Finance Authority for incentives totaling over $29.9 million for the new distillery project. Through the Tourism Development Act, eligible Kentucky businesses can receive an annual reimbursement for taxes paid on qualifying tourism development projects.
Horse Soldier Bourbon's investment and planned job creation further recent economic momentum in the commonwealth, as the state builds back stronger in response to the effects of the pandemic.
Click here for more Bourbon Flight news.
Click here to sign up for The Bourbon Flight Newsletter (coming January 2022).