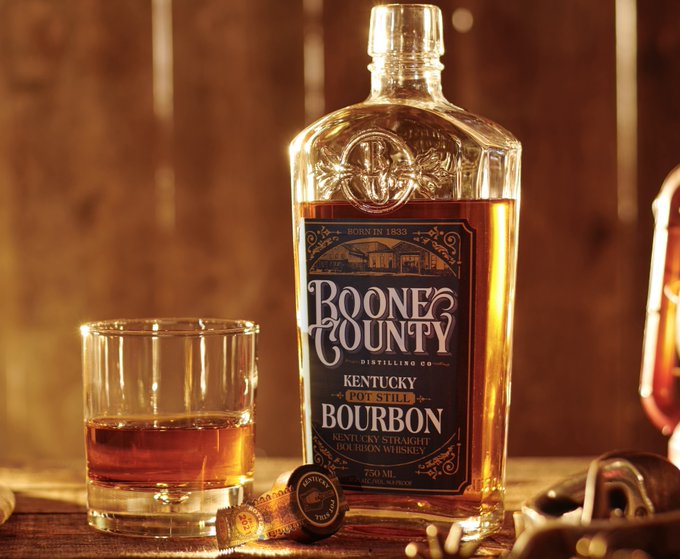 Boone County Distilling Co. has released its new Kentucky Pot Still Bourbon will be available in its gift shop starting in October.
The distillery, which began in the fall of 2015, has been distilling new make in 500-gallon copper pot still that has been nicknamed "The Bear." The new bourbon release was hand-picked from select barrels that were distilled in the pot still, aged, and bottled by hand.
With a mash bill of 74% Corn, 21% Rye, and 5% Malted Barley, Boone County Kentucky Pot Still Bourbon is proofed at 94.8.
About the distillery, In 1833 in Kentucky's Boone County, a region of proud limestone hills that gradually fell to their knees at the banks of the Ohio River, a man named William Snyder made a decision that would impact the region 182 years later: He decided to buy a flour mill.
Within three years he had begun operating a distillery in conjunction with the mill. Soon, his whiskey business was one of the largest in the nation and far exceeded his profits in flour. While we might consider Snyder an extraordinary man, he was typical of those with a pioneering spirit back in the day. They saw the opportunity and took risks. For them, the biggest risk was in doing nothing.
It's in a similar pioneering spirit that Boone County Distilling Company is now making authentic bourbon whiskey in the northern hills of Kentucky. Their brand is a living tribute to those that came before, men like Snyder and others, including Col William Appleton, J.C. Jenkins, and James Gaff. Julius Freiberg and Levi Workum. Their stories infuse the Boone County brand with truth and determination. They are all part of the story.
Click here for more Bourbon Flight news.
Click here to sign up for The Bourbon Flight Newsletter (coming January 2022).