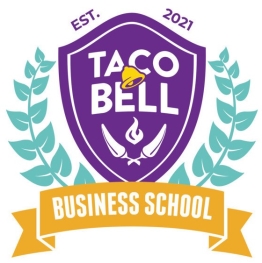 LOUISVILLE, Ky. — Taco Bell asked itself: Shouldn't the leaders in the Taco Bell system reflect the people who eat and work there?
In an effort to break down potential barriers and further diversify its franchise system, Taco Bell announces that it is rolling out Taco Bell Business School in partnership with the University of Louisville: a first-of-its-kind franchise training program to elevate restaurant leaders as entrepreneurs and break down barriers to franchise ownership.
The Business School will be supported through the Yum! Center for Global Franchise Excellence in partnership with the University of Louisville. Yum!, Taco Bell's parent company, launched the Center with University of Louisville's College of Business in 2021 to unlock opportunities for underrepresented communities through education on the business of franchising. The pilot program will leverage this partnership to create pathways for restaurant leaders to advance in their careers while helping the brand build a more diverse franchise system.
The six-week business boot camp will teach top-performing restaurant leaders the fundamentals of franchise ownership, leveraging the existing curriculum from the Yum! Center for Global Franchise Excellence, infused with a twist.
The classes will provide accredited education and training on critical business and entrepreneurial skills, from financing, growth, and development to marketing and HR. The company has partnered with its dedicated franchisees to share their expertise and inspire future franchise owners.
Participants will be given scholarships to cover tuition for the program and will be recognized internally within the company system for their accomplishments. Not to mention, they'll receive some fun branded swag so they can show off their Business School pride.
The first class of Taco Bell Business School students will start the boot camp in February 2022. Taco Bell will continue to grow the program in the future and build a talent pipeline for strong field leadership.
Click here for more Kentucky business news.