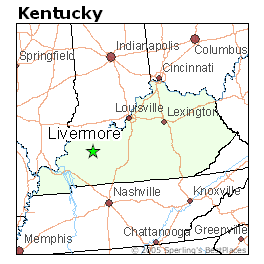 Livermore, Ky. — The Department of Tourism announced that Livermore in McLean County has officially been certified as the commonwealth's 25th Kentucky Trail Town.
"Outdoor recreation is a major economic driver for both Kentucky and the United States," said Mike Mangeot, commissioner of the Department of Tourism. "There are thousands of miles of trails and waterways throughout the commonwealth. These trail towns offer the perfect destination for long-distance adventures or day trips and we are excited to have Livermore join the other 24 destinations who have received this designation."
The Kentucky Trail Town Program is a tourism and economic development program designed to provide a strategic plan for communities to capitalize on travel opportunities within a respective community. Each of Kentucky's 25 trail towns has made the public commitment to share their outdoor opportunities, culture, history, and stories with guests hungry for adventure.
The program also seeks to grow opportunities for healthy physical activities by increasing access to trails and recreational areas. Outdoor adventures in Livermore include paddling on both the Rough and Green rivers and cycling on three new routes for bicyclists throughout the region. Southern Outdoors, a local sporting goods supply store, recently added a canoe and kayak livery with full shuttle service. Livermore also has a new accommodation, the River Trails Inn that is available for overnight rentals.
Livermore joins Dawson Springs, Livingston, Morehead, Olive Hill, London, Stearns, Elkhorn City, Jamestown, Manchester, Berea, Columbia, Royalton, the Harlan County Tri-Cities of Cumberland, Benham & Lynch, McKee, Slade, Munfordville, Cave City & Horse Cave, Campbellsville, Irvine & Ravenna, Hazard, Elizabethtown, Morgantown and Park City as Kentucky Trail Towns.
For more information on exploring Kentucky's great outdoors including Kentucky Trail Towns visit Kentuckytourism.com.
Click here for more Kentucky business news.