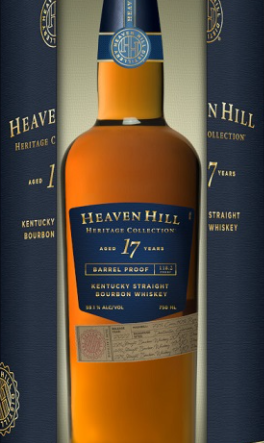 Heaven Hill Distillery announced the release of Heaven Hill Heritage Collection 17-Year-Old Barrel Proof Kentucky Straight Bourbon Whiskey, the first edition of the new Heaven Hill Heritage Collection. Each spring, this annual, highly limited release will feature some of the distillery's oldest inventory of aging whiskey, heralding the exacting standards Heaven Hill Distillery has practiced since 1935.
The Collection, a testament to Heaven Hill's patience and ultra-aging techniques, will feature one of the six traditional American Whiskey mashbills produced by Heaven Hill, the only heritage distillery to produce this range.
The first edition features Heaven Hill's Bourbon mashbill comprised of 78% corn, 10% rye, and 12% malted barley, and bottled at a barrel proof of 118.2. With an age statement of 17 years, this release is made up of 28% 20-year-old barrels, 44% 19-year-old barrels, and 28% 17-year-old barrels pulled from Deatsville, Glencoe, Schenley, and Heaven Hill main campus warehouse locations. Attributes will vary by release as deemed worthy of bottling.
Heaven Hill Heritage Collection joins its more experimental counterpart, the Parker's Heritage Collection, to form the "Heritage Collection." The Heaven Hill offering will be released in the spring, while Parker's will continue to be released every fall. Releases from both collections offer a glimpse into the long-term plan across Heaven Hill's American Whiskey stock and commitment to quality, craft, and innovation.
Each Heaven Hill Heritage Collection 750ml bottle will be accompanied by a premium box in signature Heaven Hill blue with the double-H insignia stamped in gold to signify Heaven Hill. As will become a signature of the Collection, specific attributes such as warehouse site locations, production dates, mashbill percentage, and other designations will be noted prominently on the packaging.
Click here for more Bourbon Flight news.
Click here to sign up for The Bourbon Flight Newsletter.