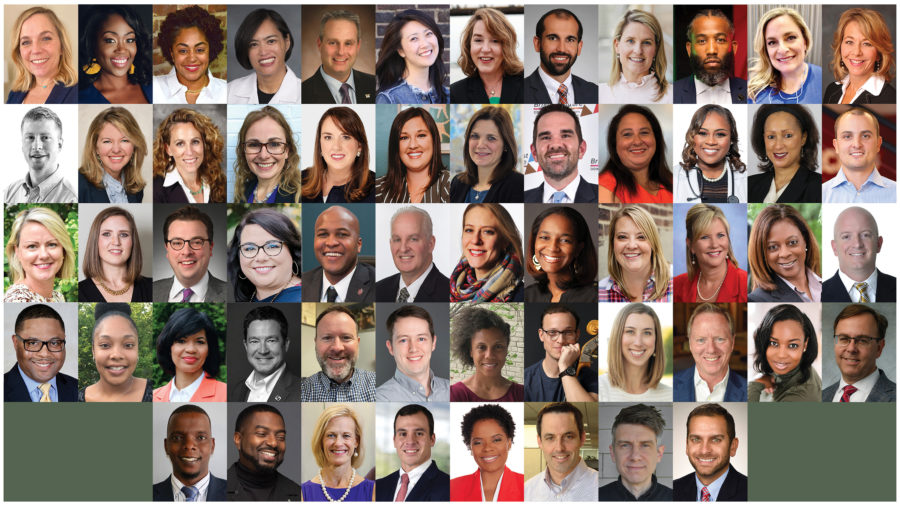 LOUISVILLE, Ky. — After 10 months, 57 regional leaders graduated May 17 as the Leadership Louisville Class of 2022, the 43rd class of the Leadership Louisville Center's signature program for established community leaders.
Since 1979, Leadership Louisville has helped the community's most influential and esteemed leaders are knowledgeable about issues, well-networked and passionate about the success of the region. They spent one year going on exclusive tours and having hands-on experiences, all with area leaders who take on our community's biggest challenges every day. Armed with new knowledge, connections and perspectives, Leadership Louisville graduates are prepared to take their places as effective community leaders.
"In today's world, it's critical that we have leaders who are knowledgeable of our history and who understand the complexity of the challenges we face as a community. And despite our best intentions, we are often socially segregated as we go through our professional and personal lives," said Cynthia Knapek, president of Leadership Louisville Center. "The 57 members of the 2022 Leadership Louisville class embarked on a life- and community-changing journey that has prepared them for meaningful impact on our region's growth and success."
The 57 members of the Leadership Louisville Class of 2022 are:
Nicki Belcher, WHAS 11; Glynita Bell, Heart 2 Heart Wellness Center; Ideisha Bellamy, Maryhurst Inc.; Valerie Briones-Pryor, M.D., Greater Louisville Medical Society/UofL Health; Greg Bromley, Republic Bank; Julie Burns, GE Appliances, a Haier company; Meg Campbell, University of Louisville; Thomas Carver, BKD CPAs & Advisors; Beth Clingaman, Sacred Heart Schools; Douglas Craddock, Ph.D., University of Louisville; Meredith De Renzo, Girl Scouts of Kentuckiana; Kim Dickey, Schneider Electric ESS; Lee Dorsey, Doe-Anderson; Tiffany Fabing, Jewish Heritage Fund for Excellence; Rebecca Fleischaker, Louisville Downtown Partnership; Cori Gadansky, Community Coordinated Child Care | 4-C; Ann Georgehead, Fifth Third Bank; Jessica Hardin, ID+A, Inc; Katrina Harmon, The RBL Group; Kevin Hisel, DDW The Color House | DDWilliamson; Danielle Jackson, Delta Dental of Kentucky; La' Keisha James, Trilogy Health Services; Adria Johnson, Metro United Way; Robert Kapfhammer, Ad Cucina; Shannon Karol, J.B. Speed Art Museum; Ashely Klein, AssuredPartners; Kate Lacy Crosby, Tachau Meek; Justin Leighty, Baptist Health Foundation Louisville; Rebecca Mark, Farm Credit Mid-America; Michael Marshall, Ed.D. Bellarmine University; Steven McCarty, Miranda Construction; Christine McGarvey, Kindred Healthcare; Vanessa McPhail, Ed.D., Jefferson County Public Schools; Stephanie Moore, Louisville Zoo; Amy Nall, Archdiocese of Louisville; LaWanda Page, Brown-Forman Corp.; Andrew Palmer, Frost Brown Todd LLC; Keith Phillips, Humana; Nakristia Pitts, Seven Counties Services Inc.; Von Purdy, Simmons College of Kentucky; Phil Ransdell, Fifth Third Bank; Jeremy Rogers, Dinsmore & Shohl LLP; Sara Sahni, Norton Healthcare; Mike Slaton, Louisville Pride Foundation; Aleece Smith, Kentuckiana Works; Ben Sollee, Tin Ear Productions, LLC; Elizabeth Strehl, Humana; Neal Sullivan, David Novak Leadership; Keli Taylor, Material Handling Systems; Michael Tigue, Louisville Water Co.; Kevin Uyisenga, See Forward Ministries; Kwane Watson, DMD, Kare Mobile; Elizabeth Wessels-Martin, Center for Women & Families; Jordan White, Wyatt, Tarrant & Combs; Patricia Williams, Wesley House Community Services; Stuart Wilson, LG&E and KU Energy; Christopher Yost, GBBN Architects; and Sam Zuege, Norton Healthcare
Click here for more Kentucky business news.