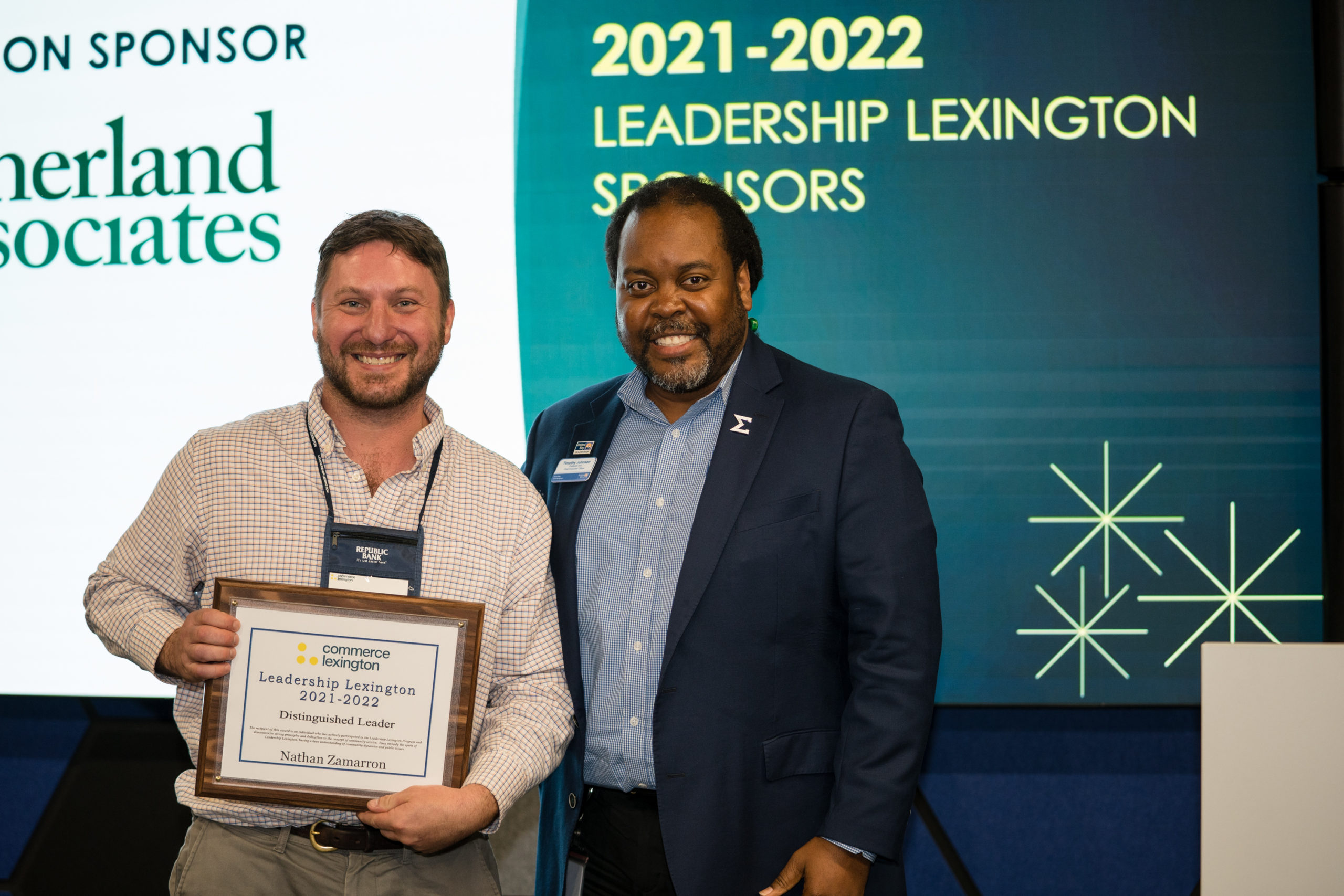 LEXINGTON, Ky. — Commerce Lexington Inc. is excited to celebrate the latest class of graduates from the 2021-22 Leadership Lexington program. Since 1979, this nationally recognized leadership development program has been cultivating Lexington leaders, producing more than 1,700 graduates from this highly informative, educational, and results-oriented leadership development program.
Commerce Lexington's Director of Leadership Development, Amy Stout, said, "After the last two years facing COVID restrictions, it was great to get back to some sense of normalcy for the class members. They approached each day's session with a lot of enthusiasm and a willingness to listen and learn about the community from different perspectives.  Through collaboration and building relationships, these Leadership Lexington graduates will be able to impact Lexington in positive ways."
First presented in 1998, the Leadership Lexington Distinguished Leader Award annually recognizes the class member who demonstrates strong principles and dedication to the concept of community service.  The 2021-22 award recipient was Nathan Zamarron, Community Arts Director for LexArts.  Zamarron proposed the idea for one of this year's class projects entitled "Lexington's Untold Stories," which held a series of oral history collecting events and research that spanned eight months to gather lesser-known histories about and by underrepresented communities in Lexington to celebrate our civic spaces.
Leadership Lexington class members closed out the 2021-22 program with a final Day Session on June 9, beginning with a visit to the Isaac Murphy Memorial Art Garden, which was a project of the class of 2007.  The group also learned about Phoenix Rising Lex, which preserves, promotes, and honors the vast contributions of African American horsemen in establishing the Bluegrass as the Horse Capital of the World through educational, public, and social activities.
Later, Jason Cummins led a workshop entitled "Building a Learning Organization," which included an after-action review where participants provided feedback about their experience in the Leadership Lexington program. A graduation ceremony was held in the Esports Theater at The Cornerstone with UK Women's Basketball Head Coach Kyra Elzy providing the keynote address. Find out more about Leadership Lexington at www.leadershiplexington.com.
Graduating Class:
Najwa Abu-Taha Crank and Boom Craft Ice Cream
Natalie Appel Junior Achievement of the Bluegrass
Keleigh Arnett PNC Bank
Rania Belmadani Lexington-Fayette Urban County Government
Eden Bennett Lexington Public Library
Allie Beto McBrayer PLLC
Emily Biggins Morgan Stanley
Kara Covert Transylvania University
Rachel Elam Larry E. Botts & Associates
David Farrar Kentucky American Water
Cam Freeman Central Bank & Trust Co.
Alex Garcia Office of the Kentucky Attorney General
Sarah Geegan University of Kentucky Public Relations
Amy Green Fayette County Public Schools Board of Education
Daenayia Hudson Freeman, Mathis & Gary, LLP
Opa Johnson Sokari & Company, LLC
Seth Lockard Lexington Fire Department
Lindsay Mattingly Fayette County Public Schools
Stinson Miller WesBanco Bank
Tressa Neal University of Kentucky
Jackie Newman Lexington Police Department
Hunter Porter BC Wood Properties
Dean Roethemeier Keeneland
Jennifer Rose UK HealthCare
Martin Schafer FCPS Chief of Police
Dylan Schneider MCM CPAs & Advisors
Shericka Smith Fayette County Public Schools
Terry Snow LG&E & KU
Kim Thuringer Lexmark International
Thomas Travis Wyatt, Tarrant & Combs, LLP
Katie Williams United Way of the Bluegrass
Kristie Woodrum Commerce Lexington Inc.
Lin Wu Lexmark International
Nathan Zamarron LexArts
Click here for more Kentucky business news.