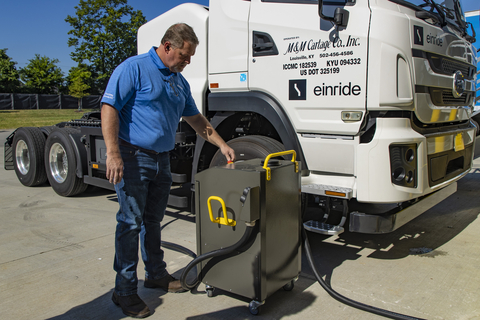 LOUISVILLE, Ky. — GE Appliances, a Haier company, is deploying a fleet of electric freight vehicles on routes between the company's inbound warehouses and its manufacturing facilities in Kentucky, Georgia, and Tennessee.
The move will increase efficiency, and reliability and lower the cost of moving manufacturing materials and components in a critical segment of the company's supply chain. It will also provide data for the company to assess the environmental benefits of electric vehicles (EV) to achieve its operation's sustainability goals.
This is the implementation phase of an agreement between GEA and Einride, a leader in providing electric and autonomous shipping solutions.
The EV trucks are being driven on routes between facilities operated by the Port of Savannah, and GEA's inbound warehousing and logistics centers, manufacturing sites, and finished-goods warehouses. The trucks have a range of 200 miles per charge and will cover an estimated 125,000 miles annually – eliminating 210 tons of CO2 emissions within the first year.
The EV trucks are being used in the following priority locations:
Georgia: Trucks are routed between the Port of Savannah's Appalachian Regional Port, GEA's nearby Southern Logistics Center in Crandall, and Roper Corporation, GEA's cooking products manufacturing subsidiary in LaFayette.
Kentucky: Trucks travel from the company's Kentucky Logistics Center to GEA's massive Appliance Park campus, carrying parts that make GE, GE Profile, and Café refrigerators.
Tennessee: Starting next month, the focus will be on moving finished Monogram refrigerators from the manufacturing facility to the warehouse to await shipping to customers.
Using EV trucks brings GEA closer to accomplishing its Citizenship goals according to Shannon Fitzpatrick, senior sustainability manager at GE Appliances. "GEA is a member of the U.N. Global Compact. Integrating EV trucks into our domestic supply chain is another ambitious step to run our operations in more sustainable ways and reduce the carbon footprint of our supply chain."
Since 2016, GE Appliances has invested more than $2 billion in its nine U.S. plants and nationwide distribution network. The investments have resulted in the creation of more than 4,000 new jobs.
Click here for more Kentucky business news.