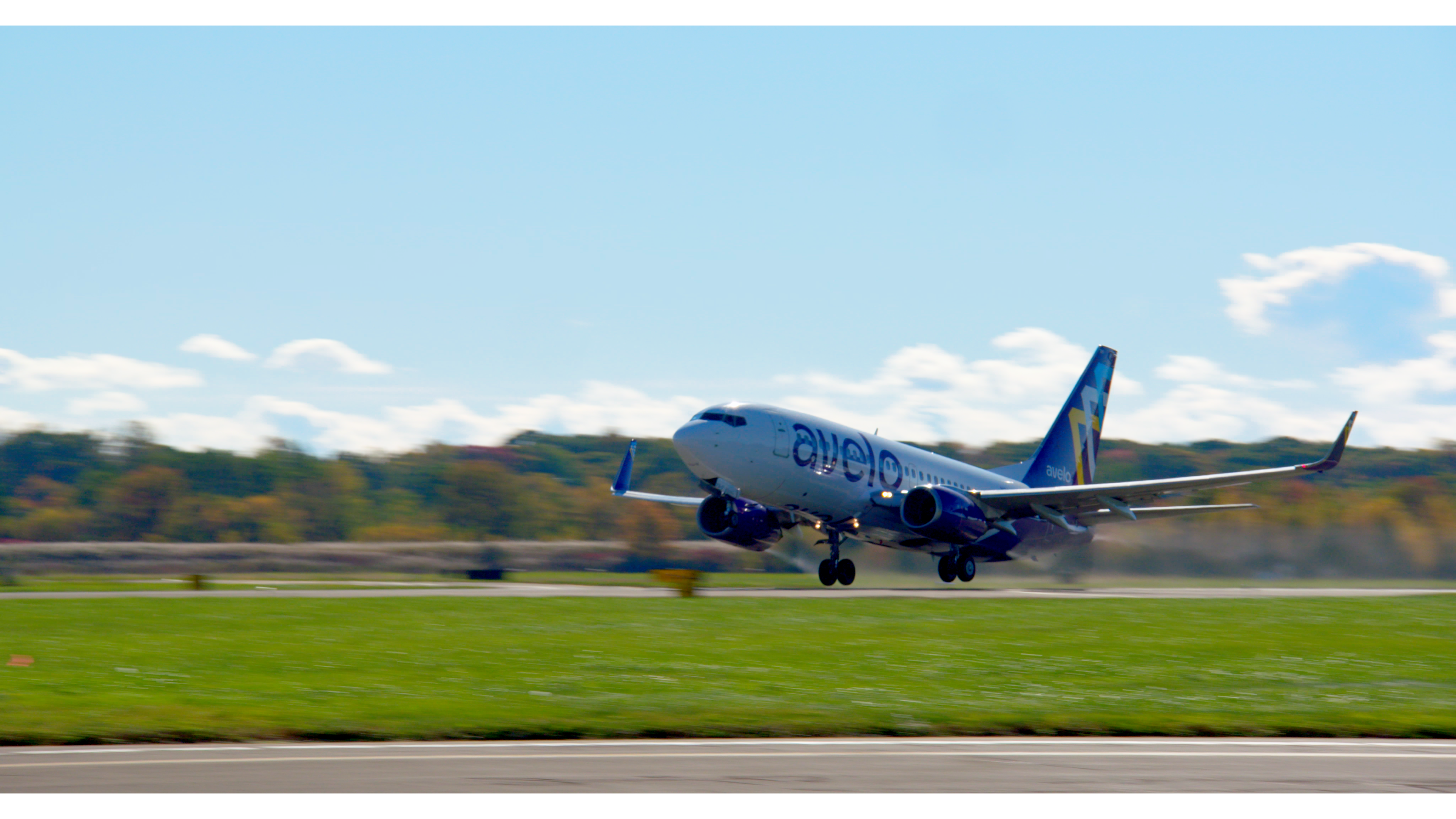 LEXINGTON, Ky. — Just 16 months after making history as America's first new airline to take flight in more than a decade, Avelo Airlines announced it flew its one-millionth customer. To celebrate the milestone, Avelo is extending its very low introductory fares at LEX with prices starting at $39. Avelo will also be awarding one lucky traveler with a year of free tickets to any Avelo destination. Avelo will begin service in Lexington to Orlando in mid-October and will begin service to Tampa in mid-November.
Avelo CEO and Founder Andrew Levy said, "From the start, Avelo has been on a mission to Inspire Travel by making flying affordable and easy so you can travel more. Since our first flight 16 months ago, one million Avelo Customers have enjoyed the everyday low fares and convenience of flying with us. All of us at Avelo are grateful to every Avelo Customer who has chosen Avelo. I'm also very appreciative of our Avelo Crewmembers who deliver the smooth, reliable and caring travel experience that keeps our customers coming back. We've flown our first million Customers and still have great new cities, like Lexington, starting service soon. This is just the beginning!"
Extended introductory fares between Lexington's Blue Grass Airport (LEX) and Orlando International Airport (MCO) and Tampa International Airport (TPA) start at $39 and must be booked by Wednesday, August 17. Customers can make reservations at AveloAir.com.
Avelo will also be awarding one lucky traveler with a year of free tickets to any Avelo destination. The winner will receive 12 pairs of roundtrip Avelo tickets that are valid for one year. Inspired travelers can enter the Avelo One Million Sweepstakes*at Avelo's Instagram page (@AveloAir) or by visiting AveloAir.com/OneMillion through September 12, 2022.
A Different, Better and More Affordable Travel Experience
Since taking flight in April 2021, Avelo has emerged as one of the airline industry's most reliable airlines. The airline has cancelled less than 1% of its flights and consistently delivers industry-leading on-time performance and baggage handling metrics.
At Avelo, there are no change or cancellation fees. Avelo offers several unbundled travel-enhancing options that give Customers the flexibility to pay for what they value, including priority boarding, checked bags, carry-on overhead bags, and bringing a pet in the cabin.
The American-made Boeing 737 jets Avelo flies offer a more spacious and comfortable experience than the small regional aircraft historically operating at many of the small hometown airports Avelo serves. Customers may choose from several seating options, including seats with extra leg room, as well as pre-reserved window and aisle seating.
Avelo is distinguished by its Soul of Service culture. The culture is grounded in Avelo's "One Crew" value which promotes a welcoming and caring experience. By caring for one another and owning their commitments, Avelo Crewmembers focus on anticipating and understanding Customer needs on the ground and in the air.
A few more quick facts about Lexington's newest airline:
Hello from Avelo – and, by the way, that's how we pronounce it… like hello, and thus "Hello, Avelo!" ….you can remember Jello if you want to. ?
Avelo started flying in April of 2021 and we've already flown over 1 million passengers.
Avelo has three bases: Orlando, New Haven, CT and Hollywood-Burbank and serves 30 cities across the United States.
Avelo has 10 737's in its fleet, growing to 15 or more by mid-2023.
Avelo has over 500 crew members and is continuously growing.
Avelo will kick off twice weekly flights to Orlando on October 19 and Tampa on November 12 with prices starting as low at $39.
Click here for more Kentucky business news.