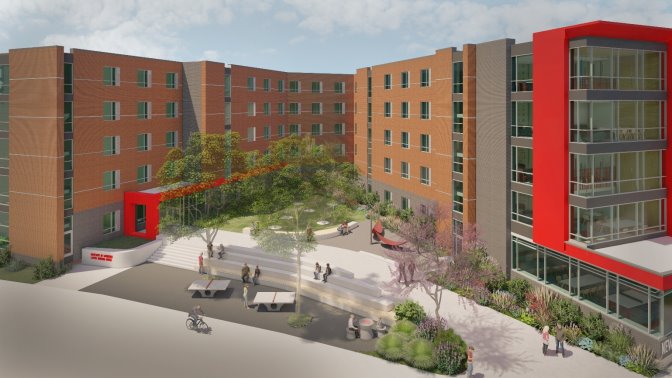 LOUISVILLE, Ky.
— The University of Louisville celebrated the opening of a new residence hall for first-year students in the heart of Belknap Campus.
The traditional-style hall is the second to open in two years on Belknap Campus, providing modern, affordable housing that goes to the heart of student success.
Called simply New Residence Hall (NRH), the building will accommodate 450 primarily first-year students in one- and two-bedroom units on five floors. It will also be home to UofL's new Center for Engaged Learning, where students can find hands-on jobs and research opportunities.
As part of its strategic plan, UofL has invested $87 million in these two Belknap Campus student housing projects over the past two years. Last year, UofL celebrated the opening of NRH's neighbor and twin, currently known as Belknap Residence Hall.
To make room, UofL demolished Miller and Threlkeld halls, which had been home to first-year students for close to six decades.
"Our new residence halls have the amenities students are looking for in the 21st century and will contribute to their success," said Tom Hardy, executive director of university housing and the resident experience.
NRH was designed with input from students and offers common areas with abundant natural light, classrooms, private study rooms, a game room, a kitchen and several laundry areas. It also features private bathrooms.
A time capsule focused on the construction years of 2021 to 2022 was placed near the building's dedication marker by the main door. It holds items such as the university's strategic plan, a message from Gonzalez, COVID tests and masks, a newspaper marking the start of the war between Russia and Ukraine and sports updates.
In addition to these halls, UofL Athletics will soon celebrate the opening of the new 128-bed Denny Crum Residence Hall near the basketball practice facility.
Click here for more Kentucky business news.