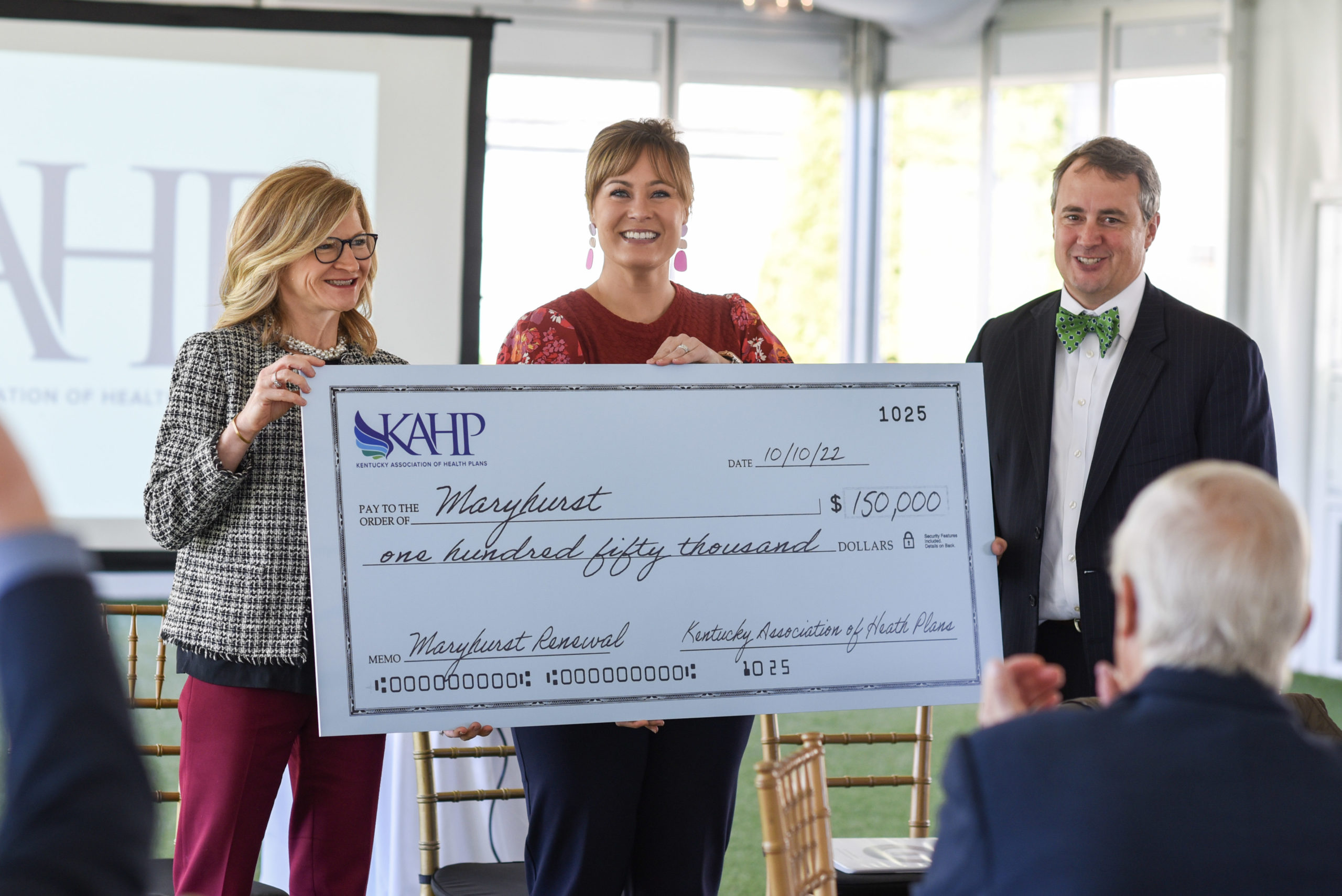 LOUISVILLE, Ky. — Maryhurst, Kentucky's oldest child welfare agency, announced it received $150,000 from the Kentucky Association of Health Plans (KAHP) to increase the behavioral health services it provides Kentucky children and families in need.
KAHP's grant will fund therapy and support services for more than 200 additional families in the coming year.
The grant supports Maryhurst's Renewal program, which partners with local schools and community agencies to provide wraparound services for individual and family therapy, community support services like classroom assistance, targeted case management to connect families with food or housing assistance, behavioral analysis and psychiatric services.
The Renewal program started in 2015 and now serves more than 700 children and families annually. Maryhurst Renewal is currently active in 104 Jefferson County Public Schools, with a high concentration in the South and West parts of the county – areas that have historically lacked adequate access to quality care and services.
"When I think of the impact this grant will have, I think of the children I've met through Renewal who arrive in our program feeling isolated and unsure of where they'll sleep any given night, but over time find the resources and coping skills that allow them to thrive," Maryhurst CEO Paula Garner said.
The partnership between KAHP and Maryhurst Renewal fills a funding gap to ensure sustained care for families to help meet basic needs and remove barriers to success, she said.
"We know that teachers are being asked to do much more than teach these days," said Tom Stephens, executive director of KAHP, the trade association for commercial insurers and Medicaid managed care plans in Kentucky. "That's why we're proud to aid Maryhurst in their critical work inside Jefferson County Public Schools tackling the Social Determinants of Health (SDOH). Medicaid managed care organizations are in a unique position to partner for innovative approaches to reduce the social risk factors that negatively impact health − above and beyond what's possible with traditional fee-for-service or other care models."
The program addresses issues of health equity and access to care by supporting children and families whose circumstances lead to significant vulnerability. Nearly 60% of Renewal clients self-reported living with a parent or caregiver who had mental health issues, more than half said a family member had struggled with substance abuse, and a third said they had experienced housing insecurity.
KAHP is the trade organization representing Kentucky's health insurance community. Members include Aetna, Anthem, CareSource, Humana, Passport Health Plan by Molina Healthcare, UnitedHealth Group and WellCare.
Founded in 1843, Maryhurst is the oldest child welfare nonprofit in Kentucky. Its specialized continuum of care to prevent abuse and empower survivors of trauma includes individual and family counseling; psychiatric and campus-based residential treatment for girls; and community-based transitional living services and aftercare. Visit www.maryhurst.org or call (502) 245-1576.
Click here for more Kentucky business news.