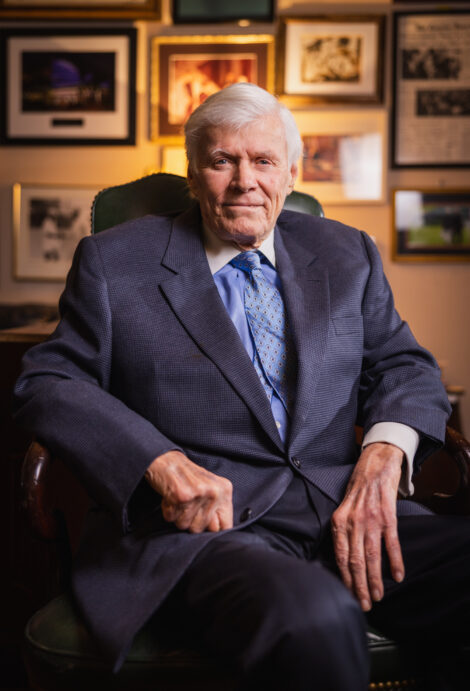 LEXINGTON, Ky. — Kentucky Entrepreneur Hall of Fame member and former governor John Y. Brown Jr. has passed away at age 88. He built Kentucky Fried Chicken into an international powerhouse in the early days of chain restauranting and was elected governor, serving from 1979 to 1983.
Harvard Business School named him one of the top business leaders of the 20th century.
Brown was part of a prominent political family. His father John Y. Brown Sr. was speaker of the House in the Kentucky General Assembly and his son John Y. Brown III served a term as secretary of state.
The Lexington Herald-Leader reported that his children said Tuesday that he died due to a series of health problems stemming from COVID-19 complications that began last summer and had been in a Lexington ICU for three weeks.
His family released this statement:
"Our Dad, John Y. Brown Jr., not only dreamed the impossible dream, he lived it until the very end. His positive attitude and zest for life was unrivaled and allowed him to beat the odds many times over. Every day was an exciting adventure for him. He was a true Kentucky original who beamed with pride for his home state and its people. He had many prominent accomplishments, but most of all he loved his family with all of his heart, and we in turn loved him with all of our hearts. We are heartbroken by his passing, but find comfort in what he wrote in one of his final days, 'I have never been so happy.' "
Gov. Andy Beshear ordered flags at state buildings lowered to half staff until Brown's interment.
With leadership and sales skills, Brown's Kentucky business community influence covered six decades. While a student at the University of Kentucky in the 1950s, he became a successful vacuum cleaner and encyclopedia salesman, organizing fellow students into sales crews that netted him the equivalent of $300,000 today.
He earned bachelor's and law degrees at UK.
He and Jack Massey purchased Kentucky Fried Chicken from founder Harland Sanders in 1964 for $2 million and sold their interest seven years later for $284 million—the equivalent of $1.9 billion today—after opening 1,500 locations and taking the company public.
Brown had several other chain restaurant ventures. They included acquiring the Miami-based Lum's restaurant chain and adding the Ollie Burger to its menu, then developing the Ollie's Trolley take-out burger chain based on the highly regarded burger. He developed John Y's Chicken and Kenny Rogers Roasters.
He was part of the ownership of the Buffalo Braves, Boston Celtics and Kentucky Colonels professional basketball teams.
Brown married his second wife, former Miss America and CBS sportscaster Phyllis George in 1979 and entered politics, winning the Democratic gubernatorial primary over Steve Beshear and the general election against former Gov. Louie Nunn. While governor, he and his wife renovated a deteriorated Governor's Mansion and he shifted state contracts to a for-bid process rather than mostly being awarded as political patronage.
The book "Bluegrass Conspiracy" portrayed several of Brown's close personal associates during his term as governor as members of a cocaine and gun-smuggling ring in Lexington, and several were indicted and convicted of criminal charges. Brown was presented as a high-stakes gambler and Las Vegas regular whose $1.3 million withdrawal from a Miami bank in 1981 was part of an FBI investigation. He was never accused or charged with criminal conduct.
Brown was involved in growing the Miami Subs and Texas Roadhouse chains. The Kenny Rogers Roasters chain was part of a movement in the 1990s toward healthier foods; after growing it to more than 1,000 locations and taking it public, Brown sold in 1996.
He was active in the Paul Patton administration. In 2003, the former Kentucky Route 9 running from Ashland to Alexandria was renamed John Y. Brown Jr. AA Highway.
A decade ago he was advising Alltech founder Pearse Lyons to raise the financial goals for his animal nutrition company into the multiple billions. Lincoln Brown, son of John Y. and Phillis, is a partner today in the Wild Health, the genetics based personalized health provider.