LEXINGTON, Ky. — The rise in interest rates has continued to affect the real estate market as home sales experienced a slump going into the fourth quarter of the year. But the rate increase has not yet had the same impact on home prices.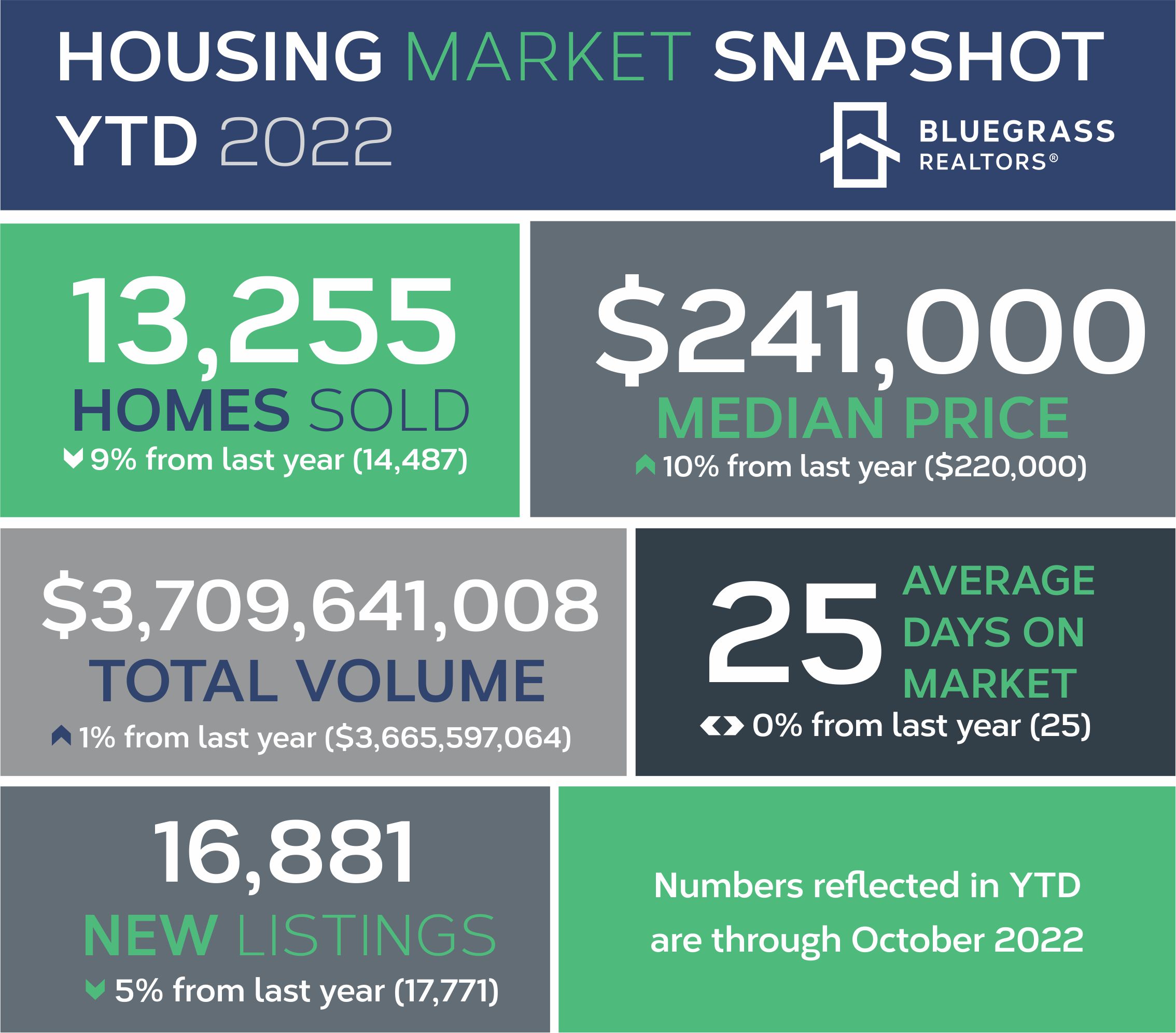 Median home prices pushed again to a new all-time monthly high in October, reaching $235,000, up 4% over last year when the median was $226,000. October marked the 44th consecutive month of year-over-year price appreciation. However, the October median price was 3% lower than the previous month as prices started to relax toward the end of the year. Single-family homes stood at $239,000, while townhouse/condo prices were $210,000.
October's total volume dropped to over $315 million in residential real estate sold, a 20% decline over last year's total of $395 million, still the second-highest October on record behind the 2021 total. Sales were down 24% in October from a year ago, as transactions hit 1,153 in 2022 compared to 1,511 in October 2021. Single-family home sales declined 22%, with 1,095 sales in October compared to 1,411 sales last year. Townhouses/condos dropped 42%, with 58 sales compared to 100 in 2021. Townhouses/condos made up an annual low of around 5% of the total market in October.
Interest rates have doubled over the course of the year, starting at 3.45% in January and ending in October at 6.9%. This resulted from the Fed raising the interest rate by a .75 percentage point for a fourth straight time and the sixth rate increase this year. With rates hovering around 7%, pending sales continued to lag behind last year. October homes under contract dropped 28% from 1,521 pending sales last year to 1,091 in 2022. This also represents a 13% decrease from the month prior, signaling a potential slowdown for the remainder of the year.
"The positive news from the sudden interest rate jump is that buyers can finally take a breath when searching for a home," stated Underwood. "Demand is certainly still there, but the hectic pace we experienced through most of this year has become more manageable. Prices are still tracking above last year due to lower than needed supply, but inventory is creeping back up."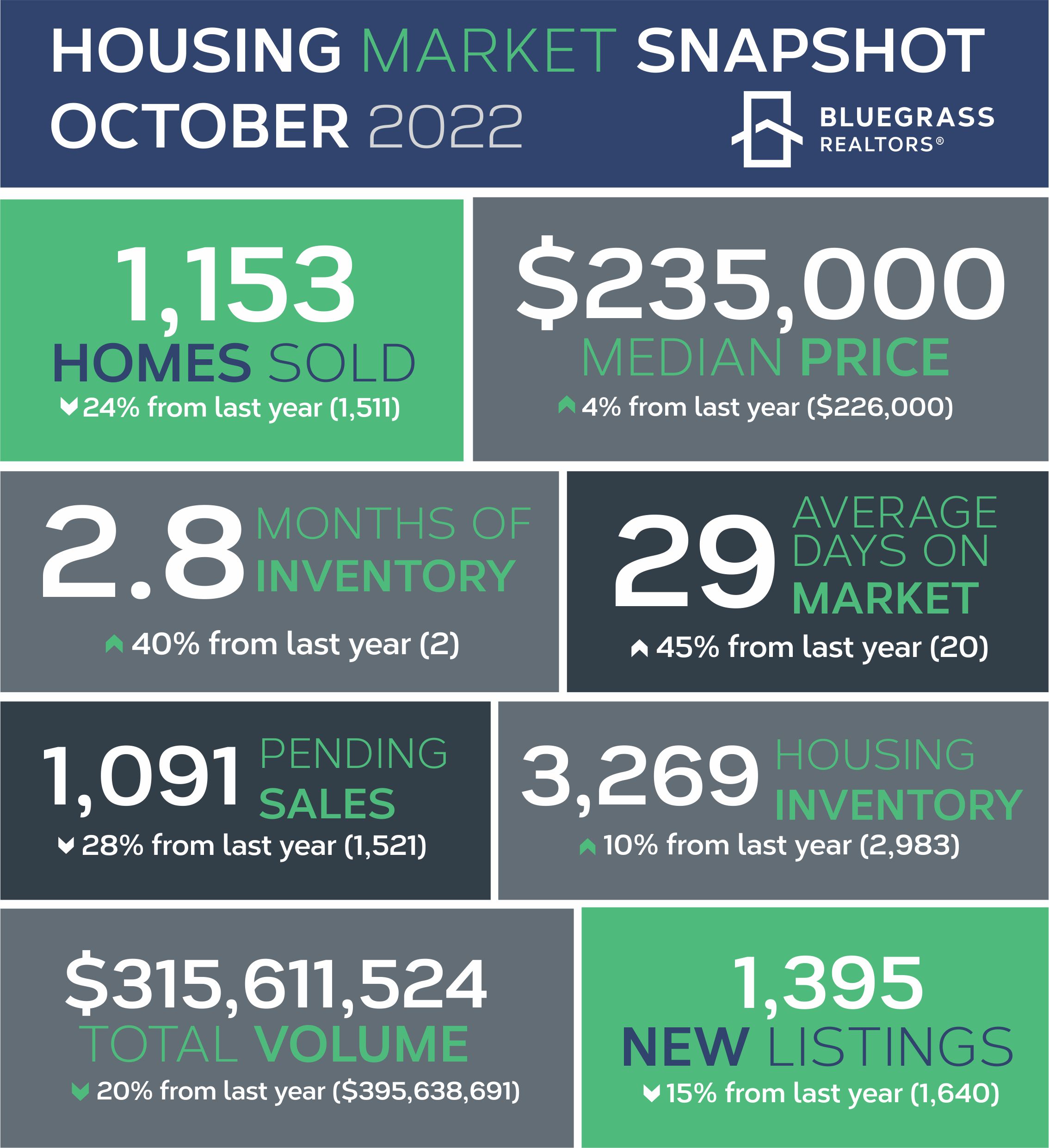 Housing inventory has risen every month in 2022 compared to the previous year, with October reporting the highest inventory levels since before the pandemic. October saw the number of homes on the market jump to 3,269, a 10% increase over last year's 2,983.
Months of inventory have remained above the 2-month mark for four consecutive months and have risen since early spring. Year-over-year, months of inventory have grown for the past 14 months. In October, months of inventory hit 2.8, a 40% jump from last year when it stood at 2.
Days on the market (DOM) increased with the increase in inventory and lower sales. Properties remained on the market 45% longer in October, with an average of 29 days compared to last year's 20 days. The median DOM, although rising 83% year-over-year, from 6 days last year to 11 days in October 2022, still shows homes selling often in a matter of days.
Starting into the last quarter of the year, new real estate listings in Central and Southern Kentucky dropped 15% compared to a year ago, with 1,395 residential properties versus 1,640 in 2021. Listings brought to market in October were down 14% from September.
"Sellers may feel reluctant to put their home on the market. However, buyer demand is still high and additional supply would certainly help," continued Underwood. "Additionally, property equity continues to grow, especially in this region, and prices overall have not been affected by the increase in rates."
Click here for more Kentucky business news.