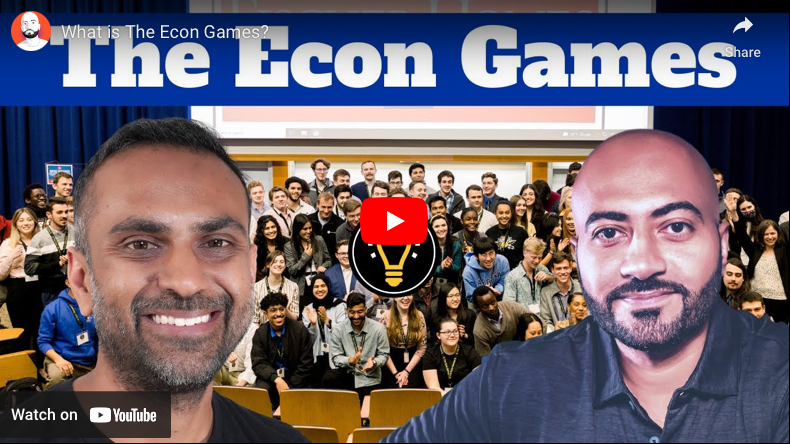 LEXINGTON, Ky. — Two UK teams placed first and second place in the 2023 Econ Games, a new data competition that offers students an experiential learning opportunity to apply classroom concepts to real-world problems.
Co-founded by UK economics professor Dr. Darshak Patel and Gatton alum and Interim Associate Dean for Graduate Studies and Research at NKU Haile College of Business, Dr. Abdullah Al-Bahrani, The Econ Games requires students to activate problem-solving skills, including critical and creative thinking, display teamwork, and utilize practical knowledge.
The competition collaborates with a company that presents student teams with a business problem to solve. Students work together to analyze the data, formulate research questions, and deliver a value-added recommendation through a concise presentation.
Students have 24 hours to solve the data challenge and present it to a panel of judges. A total of 18 teams participated, with four top teams selected to present the final presentations. The institutions that participated were: Berea College, Elon University, Miami University, Murray State University, Northern Kentucky University, Purdue University, University of Dayton, University of Delaware, University of Southern Indiana, United States Air Force Academy, University of Kentucky, and Western Kentucky University.
This year's data collaborator was MiddleGround Capital, a private equity firm specializing in B2B companies in North America and Europe's industrial and specialty distribution sectors. As experienced operators, they have worked with businesses ranging from the lower middle market to Fortune 500 companies.
MiddleGround tasked students with performing a profitability analysis on two key brands from one of their Portfolio Companies, Race Winning Brands (RWB), a leading manufacturer and marketer of racing and high-performance engine components. This challenge pushed students to test their analytical skills while incorporating business principles that ultimately empowered RWB to prepare themselves for the market changes ahead.
The UK winning teams included domestic and international students from the Gatton College of Business and Economics and Arts & Sciences. The first-place team received $3,000, and the second-place team received $1,500. A team earned third place from Northern Kentucky University with a cash prize of $1,000. First place team received five-year Stata licenses.
The Institute for the Study of Free Enterprise and Stata sponsored the prize money.
"This year's participating students warmly welcomed peers from other institutions, actively engaged, networked, and dedicated themselves to solving the data challenge prompt. It brings me great pleasure to acknowledge the impressive first and second places the UK teams achieved," says Dr. Darshak Patel. "Our colleagues excel in equipping and stimulating our students for real-world scenarios. The success of the Econ Games is attributed to our sponsors and the committed faculty members from the participating institutions."
To obtain additional details on Econ Games and potential sponsorship prospects, please get in touch with Darshak Patel or visit www.theecongames.com
This year's sponsors included:  MiddleGround Capital, Fischer Homes, The Institute for the Study of Free Enterprise (ISFE), Northern Kentucky University's Center of Economic Education (NKUCEE), Stata, Banner Management Consulting, University of Kentucky MBA, Cengage,