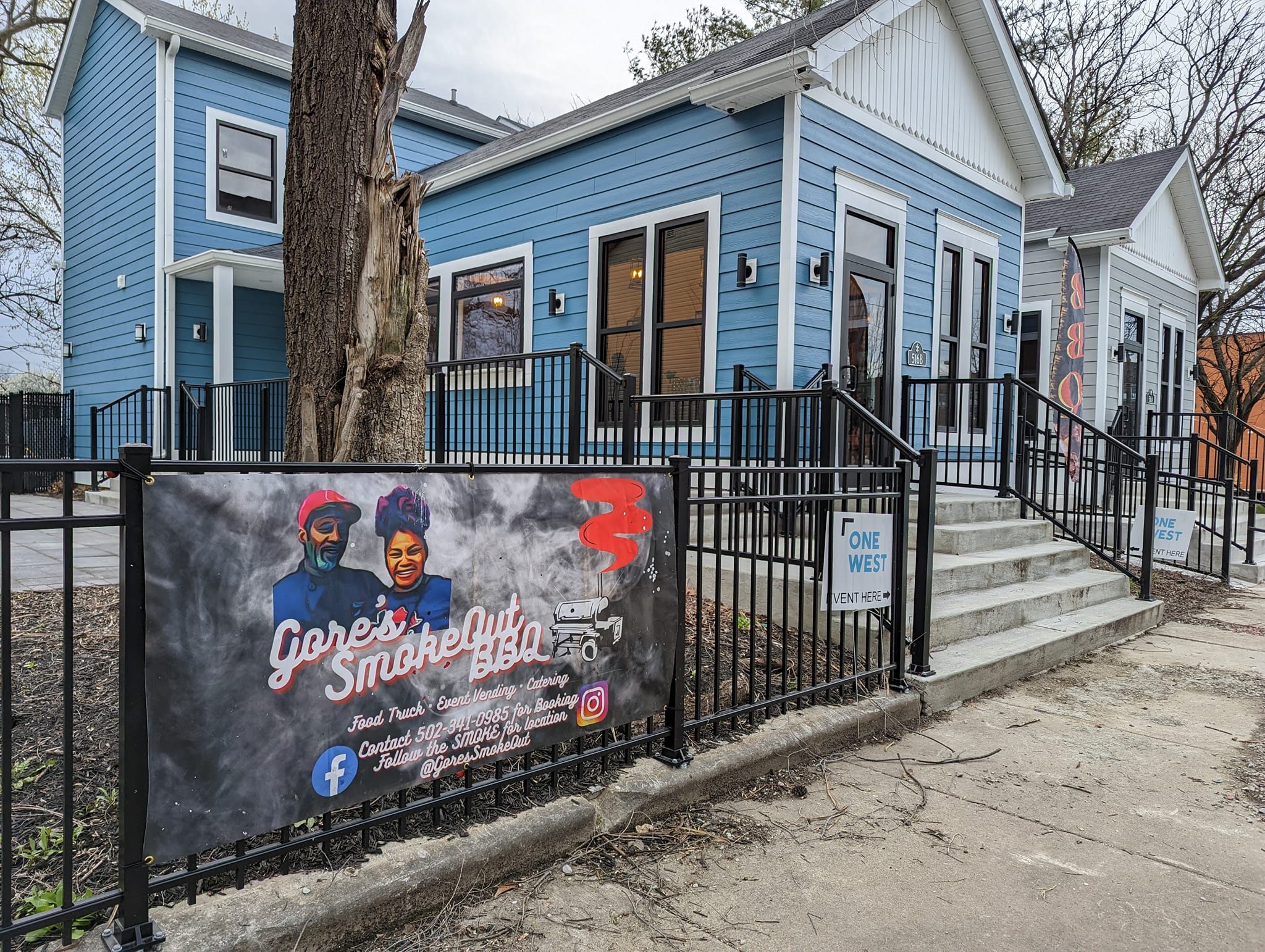 LOUISVILLE, KY. — OneWest, the community development nonprofit committed to elevating our entire city through commercial development growth in the West End of Louisville, today announced the organization has selected two participants for a retail accelerator program for community chefs looking to grow their business. Gore's SmokeOut BBQ and Melt 502 will be provided furnished retail spaces at the newly renovated space at two row houses at 516 A & B S. 18th St.
The two-year residencies will allow the two businesses their hone concepts. The spaces are equipped with the latest industry technology and equipment.  The two restaurants will open in May but will hold a soft opening on April 21.
"Our mission is two-fold with the accelerator: 1. Help grow businesses in the West End and 2. Bring more dining options to the West End," said Evon Smith, President & CEO of OneWest. "This is a terrific cohort. We're delighted to help with two years of support with marketing, business operations, table rotation, human resources, bookkeeping, and planning for profit and sustainability. There is a lot of excitement in the community as evidenced from crowds when we have hosted the businesses as pop-ups in late winter and early spring."
Each row house is 1670 sq. ft. and designed to seat 49 as well as some outdoor seating.  The businesses will have a two-year lease, after which OneWest hopes the businesses find a permanent location in the West End.
Melt 502 is the "Ville's Ultimate Source for Everything Gooey and Delicious."  Owners Reinaldo Murphy and Jamel Smith serve up creative egg rolls like the Philly Jawn (steak, onions, peppers, and mozzarella) and gourmet grilled melt sandwiches like the Hot Boy (buffalo grilled chicken, cream cheese, ranch and pepper jack cheese). The focus is unique flavor with undeniable quality.
Gore's SmokeOut has hosted several weekends of pop-ups throughout March.  Crowds lined up to get a taste of favorites like Grippo wings, smoked meatloaf, rib tips and more.  Co-owner Sherelle Gore was raised and still resides in the Russell neighborhood only one block away from the 18th Street row houses. She works alongside her husband Andre who is also a co-owner. "We have waited patiently in anticipation of the changes that are now occurring around this neighborhood. It seems only right that we are able to take advantage of such a great opportunity with the OneWest chef accelerator," said Sherelle Gore.
OneWest has steadily expanded resources for minority business enterprises and raised over $10M in capital funds for commercial and economic development projects in Louisville's West End while securing loans for major commercial projects.  The organization is also helping small business owners by providing a pathway to property ownership, having acquired 200,000 square feet of commercial real estate space, improving the built environment, increasing workforce opportunities and encouraging collaboration.
OneWest is a community development nonprofit committed to elevating our entire city through commercial development growth in the West End of Louisville.  These efforts are focused on generating sustainable economic development and neighborhood revitalization in west Louisville, in partnership with community residents. To achieve this, OneWest focuses on commercial/mixed use development, advocacy, capacity building, and community engagement. For more visit www.onewest.org or on Facebook or Twitter.