LOUISVILLE, Ky. — Kentucky Derby Museum is thrilled to announce the opening of its brand new, immersive exhibit, Secretariat: America's Horse.
The exhibit opens to celebrate the 50th anniversary of Secretariat's historic Derby win and Triple Crown sweep.
He set records in each of the Triple Crown races that still stand today.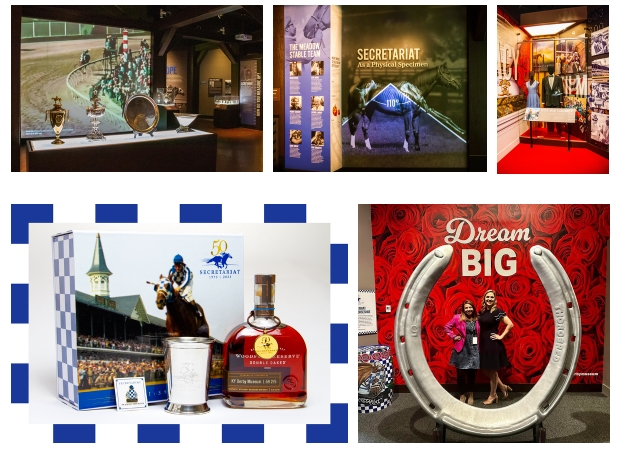 Visitors can watch each of those remarkable Triple Crown races on a larger-than-life, 10-foot wall.
Fans of the movie Secretariat can take a picture on the red carpet, which features real costumes and clips from the Disney movie. Guests can read handwritten notes and suggestions by Penny Chenery on an original film script from the movie. Guests can also snap a photo with America's largest horseshoe – a 610-pound replica made from one of Secretariat's own. 
State-of-the-art technology inside the exhibit allows guests to visualize what made Secretariat a superhorse – from his unbelievably large heart to extra muscle and more. Various artifacts, memorabilia, and trophies also help tell Secretariat's story.
The exhibit, sponsored by Longines, shows Secretariat from all aspects of his greatness. From his impact as a celebrity in the hearts of so many to his incredible athleticism to his role amid war and Watergate.
The 1,000-square-foot exhibit is permanently located on the second floor of the Museum and is more than seven times larger than the previous display on the first floor. Local design company Solid Light designed the exhibit to incorporate unique technology, visuals, and video to create an immersive experience for guests. The exhibit showcases Secretariat's life, stardom, and incomparable impact on horse racing, America, and the world. Secretariat is often considered the greatest racehorse of all time and is regarded as one of the most remarkable athletes, being named one of ESPN's top 100 athletes of the 20th century, a list that includes names like Michael Jordan, Babe Ruth, and Muhammad Ali. Secretariat cemented his stardom through a hit film from Walt Disney Studios in 2010.
The exhibit is now open to the public Friday, April 21. A Secretariat Bourbon Dinner, held on Thursday, April 20, gave VIP guests a sneak preview of the exhibit.