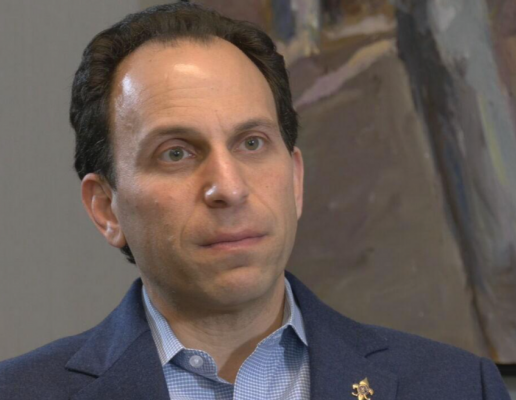 LOUISVILLE, Ky. — In his first budget address, Mayor Craig Greenberg appeared before the Louisville Metro Council on Thursday and proposed $1.1 billion in spending, which would increase funding for violence prevention, affordable housing, homeless services, infrastructure improvements, pay increases for Louisville Metro employees and other top priorities. His proposal will now move through the Metro Council's budget process.
"It is an honor to present to my first proposed budget as the 51st Mayor of our city," Mayor Greenberg said. "Since being sworn in, it has been a privilege to serve with the more than 5,000 team members of Louisville Metro Government who are working toward a safer, stronger and healthier city."
Mayor Greenberg presented his budget on Thursday to a full session of the Louisville Metro Council and delivered a Budget Address, which can be read here. The Mayor's budget, which calls for significant new investments in public safety, parks and transparency measures, will be considered by the Louisville Metro Council Budget Committee, which is scheduled to begin public hearings on May 8.
The $868 million operating budget is an increase of 3.5% over the previous budget, after removing non-recurring revenue. After accounting for all spending, Mayor Greenberg's budget leaves $83.4 million in the city's rainy day fund, the largest amount in the city's history. Including the capital budget, the total proposed budget is approximately $1.1 billion.
"We worked hard to craft this budget with significant input from community members across Louisville," Mayor Greenberg said. "I'm looking forward to working with the members of the Louisville Metro Council to move Louisville in a new direction."
Key additions found in Mayor Greenberg's operating and capital budget can be found below.
Please note, in some cases the below represents additions to the budget, whether for new programming or additions to existing line items. For existing line items, the figures below do not represent total expenditures but additions to existing expenditures.
Gun Violence
New: Department of GVI; 2 additional positions and operations support

$230,000.00

911 mental health Deflection services

$500,000.00

Homelessness / Affordable Housing
Affordable Housing Trust Fund

$15,000,000.00

Small developer affordable housing preservation

$2,000,000.00

Rental Housing Development – Affordable Housing Trust Fund

$1,000,000.00

Infrastructure supporting affordable housing

$1,440,000.00

Watson Lane School acquisition

$1,000,000.00

Goodwill Opportunity Campus

$2,000,000.00

Community Care Campus

$2,000,000.00

Shelter / VOA

$200,000.00

Hope Village – Operating support

$ 300,000.00

Women's Day Shelter

$3,000,000.00

Parks
Bathroom and graffiti cleaning

$300,000.00

Mowing to maintain 14-day cycle

$150,000.00

Expanded Community Center hours and programming

$750,000.00

Jefferson Memorial Forest Campground improvements

$500,000.00

Lighting project

$1,000,000.00

Wifi installation

$250,000.00

Community Center upgrades

$500,000.00

New maintenance equipment

$1,600,000.00

Simmons College
Family Life Center; Athletic / Community Center

$5,000,000.00

LMPD
Replace ballistic protective gear

$1,500,000.00

License Plate Readers

$1,500,000.00

Replacement, installation and LG&E fee for cameras in Real Time Crime Center

$180,000.00

Approx. 30 positions to further LMPD reforms and improvements as recommended by USDOJ

$2,134,000.00

Enhanced recruiting strategy

$1,000,000.00

Wellness Center upfit / IT and operating costs

$500,000.00

Victim Services
Three Victim Services Coordinators

$166,000.00

Public Safety
Specialized Fire Dept. skills training

$100,000.00

Youth Transitional Services body cameras

$53,000.00

Corrections clinical care and reentry assistance

$500,000.00

Pre-K
Parkway Village / Keystone Academy acquisition

$500,000.00

Downtown
Community Ambassador Program

$977,000.00

Grocery store subsidies

$6,000,000.00

Downtown Revitalization Fund

$8,000,000.00

Belvedere Master Planning

$150,000.00

CBD streetlights

$3,000,000.00

Belvedere K&I planning

$100,000.00

Underpass LED lighting

$1,600,000.00

Garbage cans

$300,000.00

LouMed
Chestnut Street improvements

$1,750,000.00

Community Corrections Center (CCC) demolition

$1,400,000.00

Public Works

5 positions to complete $150M of federal funding for construction projects

$540,100.00

Pilot Dept. of Transportation

$250,000.00

Street paving

$21,000,000.00

Street paving – Need based

$5,000,000.00

Alley paving

$1,000,000.00

Sidewalk repair

$3,000,000.00

Traffic signal rebuilds

$4,800,000.00

Preston Corridor Master Plan

$2,000,000.00

Open Records
New: Department of Records Compliance; 6 new open records related positions and operations support

$475,100.00

Arts and Tourism
Film Commission

$50,000.00

Louisville Tourism

$60,000.00

New: Office of Arts and Creative Industries; 1 new position and operations

$125,000.00

Public art

 $500,000.00

Economic Development
Build collaboration with GLI for talent attraction, regional economic development, branding

 $400,000.00

New Director of City Partnerships

 $150,000.00

KentuckianaWorks
Youth Opportunity Center

 $500,000.00

SPOT location – South Louisville

 $1,500,000.00

Library
Asst. library manager of Newburg Library and additional teen programming

 $220,000.00

Library Bookmobile

 $250,000.00

Codes and Regulations
Rental Registry; personnel and vehicle costs

 $2,100,000.00

Public Health and Wellness
Marine Hospital renovations / improvements

 $2,000,000.00

Metro Facilities
Metro Hall renovations

 $2,500,000.00

Talent Retention and Recruitment
Non-union compensation adjustment

 $11,815,100.00

Collective Bargaining Agreements

 $8,212,300.00