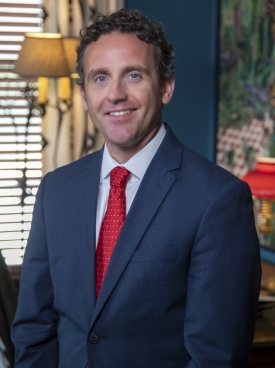 LOUISVILLE, Ky. — The University of Louisville has selected a rising leader with a track record of success in campaign planning and execution as its next vice president for university advancement.
Brent Pieper, associate vice president for philanthropy at the University of Kentucky, will take the reins of UofL's advancement operation beginning July 10.
"We launched a comprehensive search that brought dozens of highly qualified candidates for consideration by the search committee and the university community," said UofL President Kim Schatzel. "Brent rose to the top of the list and was the best person to be the next leader of UofL's Advancement team. I join our entire community in welcoming Brent to campus and look forward to supporting his leadership as we prepare for the university's first comprehensive campaign in over a decade."
"The University of Louisville is integral to building community across Greater Louisville and throughout the Commonwealth," Pieper said. "Philanthropy is critical to driving ambitious initiatives at UofL and will help elevate partnerships in health care, commerce and culture. I look forward to leading a phenomenal advancement team that will be an added charge to the atmosphere of philanthropy under President Schatzel's direction."
Pieper has held a series of positions at Division 1 universities. At Kentucky, he developed the blueprint for and managed the daily operations of the $2.1 billion Kentucky Can: The 21st Century Campaign. Serving on the senior management team with the vice president for philanthropy and alumni engagement, he managed nearly 70 direct and indirect reports in areas including major gifts and prospect research. In addition, he served as an instructor in nonprofit management at UK's Martin School of Public Administration.
He previously had served as assistant vice president for advancement and chief operating officer campaign at Cleveland State University, executive director of development at Ohio University, director of development-major gifts and corporate/foundations at the Indiana University Foundation and executive director of university advancement at Indiana University's East Campus.
He also held development and communications roles in the non-profit sector, including with the United Way of Metropolitan Atlanta, the Woodruff Arts Center in Atlanta and the 1996 Olympic Games.
Pieper holds both bachelor's and doctor of education degrees from Indiana University. He earned a master of public administration degree from Georgia State University.