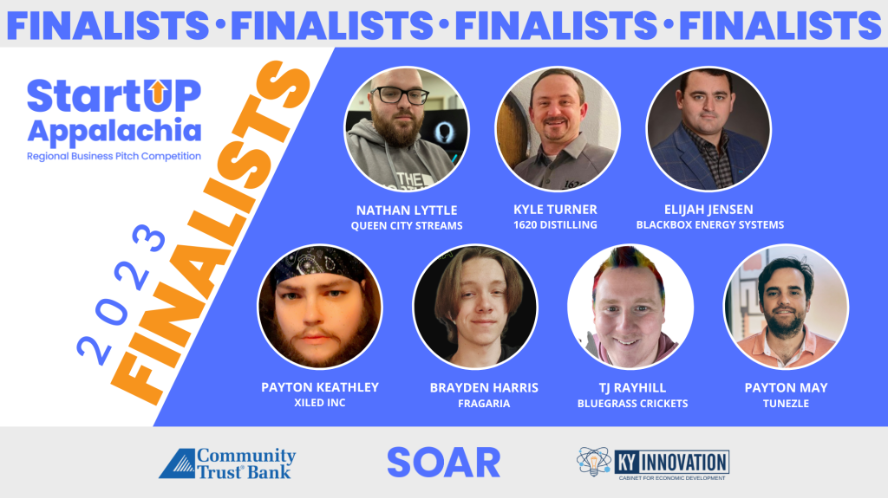 MOREHEAD, Ky. — Finalists in the 2023 Startup Appalachia Pitch Competition, presented by Community Trust Bank will compete for a $10,000 grand prize Thursday, June 15, at Morehead State University beginning at 6 p.m.
The Shaping Our Appalachian Region competition will follow a networking reception. A second place winner will win $3,500 & a third place winner will win $1,500. All finalists are guaranteed $500.
You can register to watch the finalists compete HERE.
The SOAR Innovation team received nearly 30 applications from 14 counties, but only seven finalists could be chosen for this competition.
Meet the Finalists!
Nathan Little, Queen City Streams
Nathan Lyttle is a media professional from Eastern Kentucky. He spent several years working as the Digital Executive Producer at WYMT before eventually moving into education, teaching Eastern Kentucky students about media. As the owner of Queen City Streams (QCS), he brings his media expertise to his passion for video games, providing expertly produced programming for viewers everywhere.
QCS started in 2019 as a fundraiser for a school esports team but has grown into a thriving esports organization. QCS hosts and broadcasts both online and in-person esports events featuring the best players in the region and attracting talent and viewers from all over the world.
TJ Rayhill, Bluegrass Crickets
TJ is passionate about going against the crowd (I mean, just check out his rainbow mohawk). Opening a bookstore at 19-year-old and launching a food truck, a gift shop, and a restaurant has led down a path to launching Bluegrass Crickets, Kentucky's First Commercial Cricket Farm.
Bluegrass Crickets raises organic crickets for the bait and feed industry and looks soon to produce crickets for human consumption.
Kyle Turner, 1620 Distilling
Kyle Tuner is a 2001 Graduate of the University of Pikeville. Turner then graduated from the University of Kentucky College of Law in 2004. Tuner then spent over 15 years as Vice President of Tax for several large multinational companies. He currently owns and operates several businesses.
1620 Distilling is one of Eastern Kentucky's most-awarded bourbon. Located in Prestonsburg, Ky. where they have a tasting room and what will soon be a complete distillery.
Elijah Jensen, Blackbox Energy Systems
BlackBox Energy Systems are working to produce the world's best energy technology. They have designed lightweight, powerful motors and energy generation technology.
They are also a startup research and development company focusing on clean, efficient energy production and storage. Formed to market and manufacture this research, starting with their motor and micro-turbine technology.
Their team brings professional and educational knowledge of physics, mechanical, electrical, and software engineering, manufacturing, and marketing. They seek to harness their combined expertise to improve the environment with efficient, sustainable energy technologies.
They plan to begin production for their first customers later this 2023 year.
Payton Keathley, Xiled Inc.
Payton has been gaming since the age of 5, and has played a role in the gaming community scene since 2008. After joining his first community, he found himself helping at an operations level at a very young age.
He founded Xiled Gaming Network under Xiled Inc. in 2010, and since, the Xiled brand(s) have become beloved and recognized across the globe; fostering a safe, educating, and thrilling environment for 200,000+ gamers since their inception. Retention has long been an issue with clans and communities, and clanhub is a long-awaited solution that Payton dreams to provide.
Since the birth of the internet, gamers have been gathering in organized groups referred to as Clans. This is for many reasons, but most importantly, comradery. Gaming is better with friends in general, and organizations like Xiled help assist aspiring clans to reach more potential members, partnerships, brand deals, and opportunities.
Coming from Pikeville, Ky., there were little to no opportunity to follow Payton's passion for gaming locally, and zero tools available for establishing an organized gaming group. The Xiled Inc. team and Payton strive to deliver opportunities to all players in the gaming community through cutting-edge technology, exciting platforms, and the creation of virtual environments such as Clanhub.gg that make Clan Management a breeze.
Brayden Harris, Fragaria
Brayden Harris is a driven 16-year-old residing in Wolfe County. His passions extend to philosophy, corporate finance, business, botany, horticulture and health.
Looking ahead, he envisions a future dedicated to venture capitalism, with a special focus on revitalizing the economy of Eastern Kentucky.
Beyond his professional ambitions, his vision encompasses personal fulfillment. As he continue his journey, he dreams of raising a family within the vibrant and flourishing environment of Eastern Kentucky. By combining both his passion for community, business, and sustainable practices, he is driven to create a brighter future not only for himself, but for generations to come.
Fragaria is a sustainable farming venture that employs advanced hydroponic techniques to grow high-quality, chemical free fruits and vegetables in a controlled indoor farm and lab.
Their focus on innovation and sustainability drives our mission to produce superior produce. Fragaria emphasizes strategic funding allocation to enhance farming facilities, increase production capacity, and improve distribution.
Payton May, Tunezle
Payton May is an Appalachian entrepreneur with business experience in software, coffee roasting and cold brew, agriculture and vacation rentals. He utilizes his background in architecture and urban planning and his passion for design and creativity, to fuel his entrepreneurial endeavors.
Also in the Tunezle team is Eric Shockey, who is a licensed architect and works on a variety of project types for Pikeville-based engineering firm Jigsaw Enterprises, including architecture, land development, master planning, and various entrepreneurial ventures. He has work experience in Eastern Kentucky, Lexington and Louisville, and received his education at the University of Kentucky and the University of Virginia, also with a focus on urban planning.
Tunezle is a melody guessing game that plays much like Wordle. It's simple fun and available via the browser on desktop and mobile devices as well as via mobile apps. Any one with a love for music and gaming is a potential player. Much like wordle our initial goal will be to build a user base encourage daily play via social sharing scores and a leaderboard. Similarly to wordles acquisition by the New York Times our exit strategy will be to target a buyer in the music industry i.e Spotify, Apple Music, sound cloud etc – companies with existing subscription models who want to acquire more potential users and add our game to their product suites.
While there are three cash winners, every Startup Appalachia Pitch Competition applicant will receive coaching from SOAR's Business and Innovation team. SOAR team members, appropriately called Champions, begin to identify challenges. Just as important, we identify and seize opportunities.
This includes:
Coaching and Mentoring
Direct Services such as:

Website
E-Commerce
Email and Digital Marketing
Business Planning
Accounting

Referrals to Technical Assistance Providers and their subject-matter experts
We're with every applicant from when you land and launch — and beyond!
You can watch the entire 2022 Startup Appalachia Pitch Competition HERE.