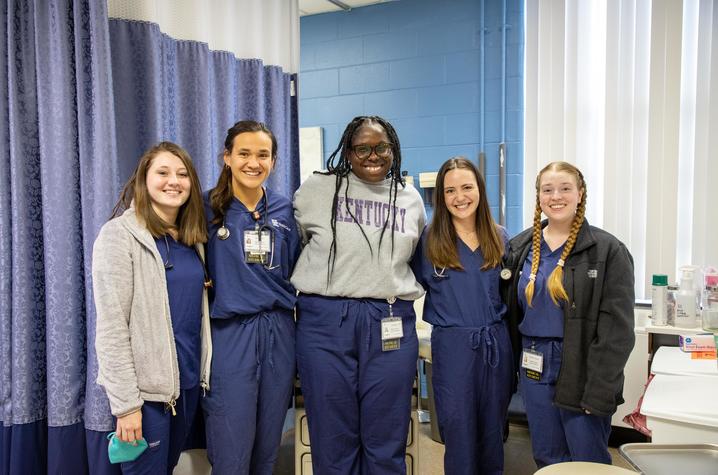 LEXINGTON, Ky. — It's Wednesday night, and Lauren Hudson and DeAsia King anxiously check their watches. Thirty minutes to go, and there's still so much to do.
At the University of Kentucky Salvation Army Clinic (UKSAC) in downtown Lexington, Hudson and King run through the checklist before they open the doors and see patients. Not just any patients — three spunky, high-energy little girls are waiting outside, excited to explore a new room in the Hanger Lodge at the Salvation Army of Central Kentucky. Hudson unlocks cabinets and checks supplies while King fires up the computer and logs into the patient record system. After giving the new volunteers — four of their fellow medical students — a quick tour, the door is opened, and 8-year-old Sarah, 10-year-old Beth and 12-year-old Nina* come barreling in like a whirlwind while their dad sits down with a clipboard to fill out paperwork.
"Guess how old I am," says Nina.
"What's your favorite color? Mine's purple," says Beth.
Sarah demands to know where the slime and toys are kept. Amid the adorable chaos, King, Hudson, and the other medical students try to get the girls' blood pressure and temperature.
On the first Wednesday of every month, the UKSAC hosts the Pediatric Clinic, where the young residents of the Salvation Army can get routine checkups, physicals and acute care services. King and Hudson are among the many students from the UK College of Medicine (COM) who volunteer to provide basic medical services to those in the Salvation Army. Under the supervision of attending physicians from UK HealthCare, students assist with providing a variety of other services, including adult primary care, dermatology, ophthalmology, nutrition, women's health and smoking cessation.
For King and Hudson, what started as a course requirement for first-year medical students became a chance to help these young patients connect with a lifetime of proactive primary care.
"One of the biggest goals of Salvation Army Clinic is to help people establish primary care," said King. "Starting that preventative care early, especially in the Pediatric Clinic, there are so many things that, if you would just have one doctor's visit, could change the scope of your health care for decades later."
"As someone interested in pursuing a career in oncology, I'm learning about all the preventative measures that come from primary care and all the benefits of establishing a primary care relationship," said Hudson. "Somebody has to be the first person to reach out to that patient so they can get plugged in and go to their second visit, then their third. And I like to think that maybe we can be that first step at the Salvation Army Clinic."
The UKSAC was founded in 1986 by physicians Abner Golden, M.D., and David Cowen, M.D., as a partnership between the University of Kentucky College of Medicine and the Salvation Army of Central Kentucky. The clinic began as a walled-off dining room section before moving to its current 500-square-foot space in the W. Arnold Hanger Lodge in 1992.
In 2009, Introduction to Clinical Medicine (ICM), was added to medical students' curriculum. First-year medical students can fulfill the course requirement by volunteering in the clinic and being exposed to active learning through placement in clinical sites focused on team-based and interprofessional learning. For Hudson, King and the other students, the opportunity to get out of the classroom and into a care setting helps put their training into practice and maintain perspective in the first book-heavy years of medical school and remind them why they chose a career in medicine.
"In your first and second year, it's really easy to get discouraged about not being able to do what you came here to do," said King. "Always being in the books and studying, you feel so disconnected from actual health care and providing care to patients. So being able to work on your skills and develop them while also helping vulnerable populations within our city is huge."
The students get vitals from the excited, high-energy girls, and after a quick chat with the dad, their findings are reported to attending physicians Pooja Utamsingh, M.D., and Faizal Ramdial, M.D., who, in addition to supervising the students, administer treatment, prescribe medication and refer them to a primary care practice. All three girls have colds, something their dad said rarely happened before they came to stay at the Salvation Army. The close living quarters and shared facilities make it hard to avoid seasonal viruses.
"One of the things we learn early in medical school is the social determinants of health," said King. "We have to be cognizant of things happening in the background, such as socioeconomic status, housing situation, access to food — all these things that contribute to overall health. Working at this clinic, we're seeing many of these determinants come into play."
"In the preclinic years of med school, you hear about patients not taking their medications or not doing what they need to do to stay healthy," said Hudson. "But hearing from the patients themselves, you realize there are so many more factors at play than them just taking medication every day. Patient stories are invaluable, and getting that experience in your first and second year helps you empathize with patients and know where they are coming from during your third and fourth year."
"The Salvation Army Clinic teaches our students much more than just providing medical care. Students see firsthand the unmet needs of some of the most vulnerable members in our community, and they get to be a part of meeting those needs," said Angela T. Dearinger, M.D., assistant dean of student affairs in the College of Medicine and faculty advisor for the clinic. "It is an experience they will take with them throughout their residency training and career."
For King and Hudson, volunteering in the pediatric clinic isn't just about providing medical care; they can see the opportunity to be role models to children who may not have many influential adults to look up to. When those three little girls came to the clinic, they probably weren't expecting six young women who were closer to their age than other healthcare providers they'd seen in the past.
"When you have a kiddo in the clinic who is interested in your stethoscope or the blood pressure cuff, they want to know what you're doing," said Hudson. "I think it's a unique opportunity to expose them to something they might be interested in."
King agrees, but the opportunity to reach an underserved and underrepresented patient population hits close to home for her.
"Growing up, I didn't know anyone who was a Black or female doctor," she said. "I want to represent those who tried to get here and couldn't because of barriers of race. I want to motivate kids who look like me who feel underrepresented to know they can do whatever they put their minds to."
After their brief experience in UKSAC, King and Hudson can already envision how the clinic can expand to serve those in Salvation Army housing.
"I can see expanding access and having the clinic open more hours and seeing more patients," said King. Transportation is also a barrier. Providers in the clinic can make referrals to specialists at UK HealthCare, but getting to those appointments can sometimes be an issue. Hudson and King have a lot of ideas, and with help from fellow students, they can't wait to get started.
"It's unique to have this opportunity as a student and to feel like you're making an impact," said Hudson. "After my first shift, that's when I knew I wanted to do more of this and give other medical students that opportunity to get that hands-on experience and make a difference too."