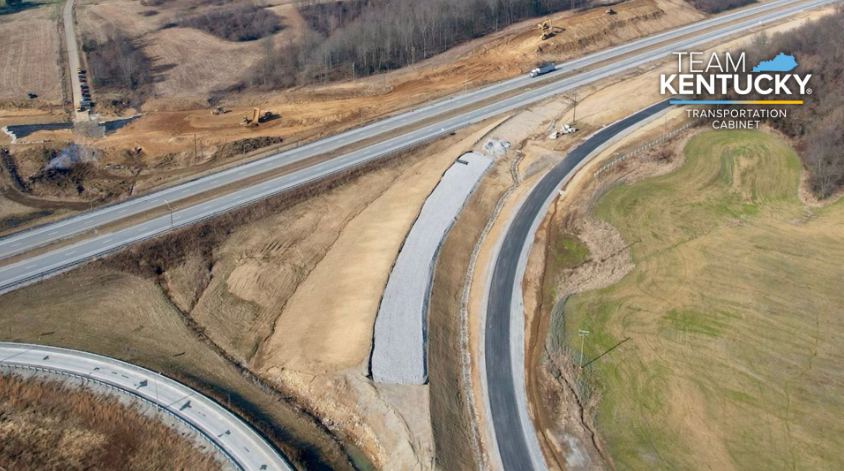 FRANKFORT, Ky. — The long-awaited Minnie-to-Harold connector on state Kentucky 680 in Floyd County opened today, bringing greater safety and convenience to travelers and will encourage economic investment and job growth in a region rebuilding from catastrophic flooding. Started in 1991, a total of $118 million was invested in this important Eastern Kentucky infrastructure project.
Gov. Andy Beshear, whose Better Kentucky Plan includes strategic use of transportation projects to strengthen Kentucky's economy and empower local communities, officially opened a connector highway that links two well-traveled routes in Eastern Kentucky.
"We know that to truly recover and thrive, we need to provide jobs and opportunity for the families who live here. That's exactly what this incredibly important road project is going to do for Floyd County," Beshear said. "On top of the safety and convenience, finishing the Minnie-to-Harold connector is going to bring more economic development and more jobs for the families here."
"The new Minnie-to-Harold connector has been a long time coming and is a huge win for our people," Floyd County Judge/Executive Robbie Williams said. "Today was an amazing day for Floyd County and is the result of years of hard work. We thank Gov. Beshear's administration for helping make today possible."
More than 30 years in the making and constructed in six separate sections, the new connector provides a direct, time-saving link between Kentucky 80 at Minnie and U.S. 23 at Harold, two of the most heavily traveled highways in the region.
The new roadway, 14.89 miles in all, is relatively straight, with wider driving lanes and generous shoulders, greatly improving safety. It also cuts the driving distance between Pikeville and Hazard by 7.68 miles, saving travelers significant time.
In addition, the alignment of the new highway opens an area of Floyd County for future development and improved access to health care, schools, government offices and financial institutions.
"This connector will have long-lasting benefits, not only for Floyd County but for this entire region," said Kentucky Transportation Secretary Jim Gray. "The people of Eastern Kentucky have been waiting a long time, and I'm proud that we were able to complete it."
In May 2022, Gov. Beshear announced the awarding of a contract to Bizzack Construction Co., on a low bid of $34.1 million, to build out the final 2.89 miles.
Also today, Gov. Beshear presented more than $4.1 million in funding and grants to support Eastern Kentucky.
Among the awards were $1.6 million from the Kentucky Transportation Cabinet (KYTC) to Floyd, Johnson, Magoffin, Martin and Pike counties to build a new transportation administration building; more than $922,000 to the city of Wheelwright to rehabilitate its wastewater plant; $750,000 in Community Development Block Grant funding for the Floyd County Fiscal Court to make improvements to the Martin Community Center; $500,000 to Big Sandy Area Development District to conduct a brownfield assessment; and $475,000 in KYTC funding for several road resurfacing projects.
The Governor is also recommending funding through the Appalachian Regional Commission, including $750,000 for the city of Wheelwright to fund more improvements at its wastewater plant and more than $506,000 for Big Sandy Community and Technical College to purchase equipment for its East Kentucky AWS Training and Testing Center.