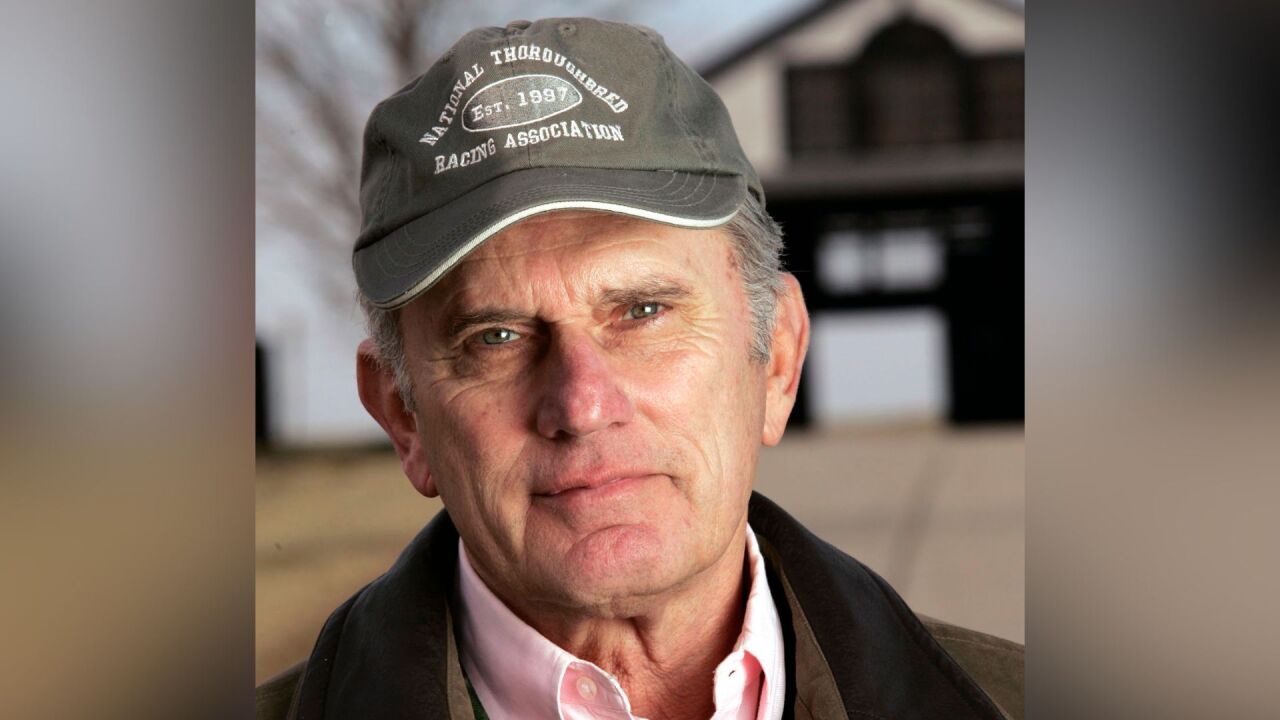 FRANKFORT, Ky. — Brereton C. Jones, Kentucky's governor from 1991-95 and lieutenant governor from 1987-91, has passed away at the age of 84.
Governor Jones moved to Kentucky in the early 1970s from his native West Virginia, where he had served in the West Virginia House of Delegates. He founded Airdrie Stud in Woodford County in 1972, a farm that to this day still operates as a renowned Thoroughbred breeding operation.

As governor, Jones pushed the legislature to create an ethics commission for executive branch officials and employees. A major priority for Jones' administration was improving access to health care and controlling the cost of health coverage. But the initiative, which essentially was a push for universal health care in Kentucky, fell short of passage in the General Assembly.
Following his time in office, Jones was instrumental in forming the Kentucky Equine Education Project (KEEP), an advocacy organization promoting the state's signature equine industry and all the economic benefits that it brings to Kentucky. To this day, the Kentucky Chamber of Commerce works with KEEP in supporting legislation to strengthen and protect the equine industry in the Commonwealth.
"Governor Jones was a kind and passionate Kentuckian, who dedicated much of his life to moving the Commonwealth and its people forward," said Ashli Watts, president and CEO of the Kentucky Chamber. "We appreciate his commitment and service, and join in offering our prayers and condolences to his family."
Gov. Andy Beshear's administration has said the family of Gov. Jones has asked for privacy at this time, but that more details would be shared at a later date.
House Speaker David Osborne released the following statement upon learning of the death of former Kentucky Governor Brereton Jones.
"I am saddened to learn of the death of Governor Brereton Jones. Brereton was a good friend and a fine man. He cared deeply about the people of our Commonwealth and his commitment to Kentucky remained a common thread in every aspect of his life, whether it be political, civic, business, or personal.
"One of the greatest hallmarks of his character was that he simply did not care who got the credit as long as the goal was accomplished. As Governor, as well as in the three decades since leaving office, he found a way to balance progress with knowing what must be preserved. We saw it in the issues he tackled in office, as well as in his work to bring the equine industry together.
"On behalf of the Kentucky House of Representatives, I share our heartfelt condolences with Libby and family. While Kentucky lost a great leader, they lost a husband, father, and friend. I hope they find comfort in knowing that the Commonwealth is better because of his efforts."
Commissioner of Agriculture Ryan Quarles issued the following statement about the passing of former Governor and Lt. Gov. Brereton Jones:
"I was sad to learn of the passing of former Governor and Lt. Gov. Brereton Jones. Gov. Jones was a dedicated leader in the political circle and the agricultural field. Along with serving on the State Board of Agriculture in the 1980s, he was also the owner of a thoroughbred farm, Airdrie Stud. He understood the importance of the horse industry to Kentucky and used his one term as governor to implement breeder and stallion awards programs, setting up off-track betting facilities to help fund them. Please join me in praying for his wife, Libby, and their family and friends during this difficult time."
The following is a statement from Keeneland President and CEO Shannon Arvin:
"Brereton Jones was widely respected for his leadership and integrity, serving the Thoroughbred industry as a statesman and visionary and the Commonwealth of Kentucky as Governor and Lieutenant Governor. His passion for horses and the land knew no bounds and culminated in his beloved Airdrie Stud, which for more than 50 years has been one of the world's foremost breeding operations. He believed in racing and worked tirelessly to improve our sport as a founding member of Breeders' Cup and the Kentucky Equine Education Project, a member of The Jockey Club and by championing formation of the Kentucky Breeders' Incentive Fund.
"At Keeneland, we will remember Gov. Jones fondly as a breeder, owner, consignor and buyer of the highest caliber, and for being a valued member of our Advisory Board. We will celebrate his life and contributions, and the tremendous legacy he leaves behind.
"On behalf of Keeneland, we extend our deepest condolences to Gov. Jones' wife, Libby; his children, Bret and Lucy; his grandchildren B, Jack, Thomas and Wende; and the entire Airdrie Stud family."
The following statement is from Kentucky House Democratic Caucus Leaders Derrick Graham, Cherlynn Stevenson and Rachel Roberts:
"We are saddened to learn of the passing of former Governor Brereton Jones, and extend condolences to his family. He served Kentucky admirably as lieutenant governor and governor, twin roles in which he left an indelible mark on the commonwealth. He was a staunch advocate for improving healthcare access for all citizens; he embraced needed ethics reforms for government; he was a vocal supporter of our signature horse industry and state parks; and he helped clear the way for future constitutional officers to serve two consecutive terms. There is no doubt that Kentuckians are much better off because of Governor Jones' public service."