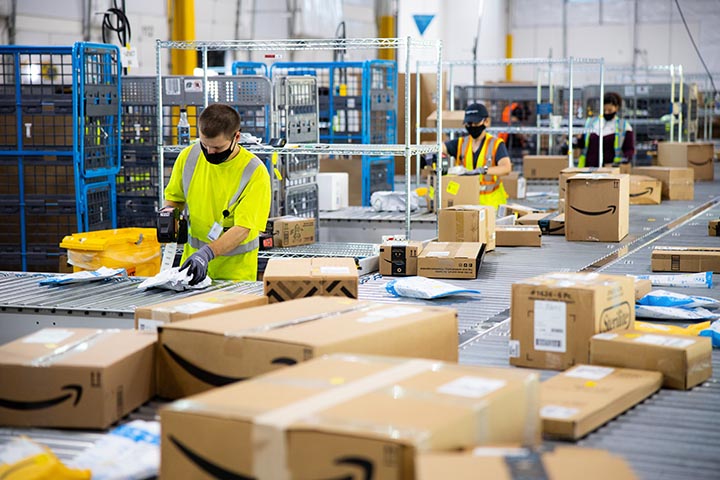 HEBRON, Ky. — Amazon is hiring 250,000 employees throughout the U.S. in full-time, seasonal, and part-time roles across its operations network, and 5,000 of those will be in Kentucky, the company said today.
A diverse range of roles—from packing and picking to sorting and shipping—are available to applicants from all backgrounds and experience levels. Customer fulfillment and transportation employees can earn, on average, over $20.50 per hour for those roles, and up to $28 depending on location. Interested candidates can see hiring locations and open positions at amazon.com/apply.
"The holiday season is always a special time at Amazon and we're excited to hire 250,000 additional people this year to help serve customers across the country," said John Felton, Amazon's senior vice president of Worldwide Operations. "Whether someone is looking for a short-term way to make extra money, or is hoping to take their first step toward a fulfilling and rewarding career at Amazon, there's a role available for them. A fulfillment or transportation employee who starts with us today will see a 13% increase in pay over the next three years—likely more, including our annual wage investments—and that's on top of offerings like pre-paid college tuition with Career Choice and heath care benefits on day one."
Jobs in Amazon's operations network include stowing, picking, packing, sorting, shipping customer orders, and more, and are available in hundreds of cities and towns across America. These roles can be the start of a long-term career inside or outside the company. The flexibility of the jobs available come with a wide range of hours—full- and part-time—and excellent pay and benefits, with employees earning between $17 and $28 per hour depending on position and location in the U.S.
In 2023, Amazon has added many new benefits, including a new emergency savings program and a financial assistance pilot program that has helped save fulfillment and transportation employees nearly $20 million—all available from day one of employment. Over the last five years, Amazon has created over 800,000 jobs, and will hire an additional 250,000 people this holiday season across full-time, part-time and seasonal roles.
Since 2010, Amazon has invested more than $35 billion in Kentucky, including infrastructure and compensation to employees, and has created more than 23,000 direct jobs. These investments support an additional 46,000 indirect jobs across the state, in fields like construction and professional services, and have contributed more than $31 billion to the Kentucky GDP, on top of the company's direct investments.
Employees looking to join Amazon for the first time or to come back as a rehire will also receive improved on-the-job safety training. This year, Amazon has enhanced our real-life, job-applicable safety training, along with developing an enhanced Powered Industrial Trucks (PIT) Training curriculum, designed specifically to boost knowledge retention and to prioritize personal and site safety. Examples of these machines include order pickers and forklifts.
Amazon has opened over 50 new fulfillment centers, delivery stations, and same-day delivery sites in the U.S. this year, resulting in hundreds or thousands of new job opportunities per site, depending on the size and location