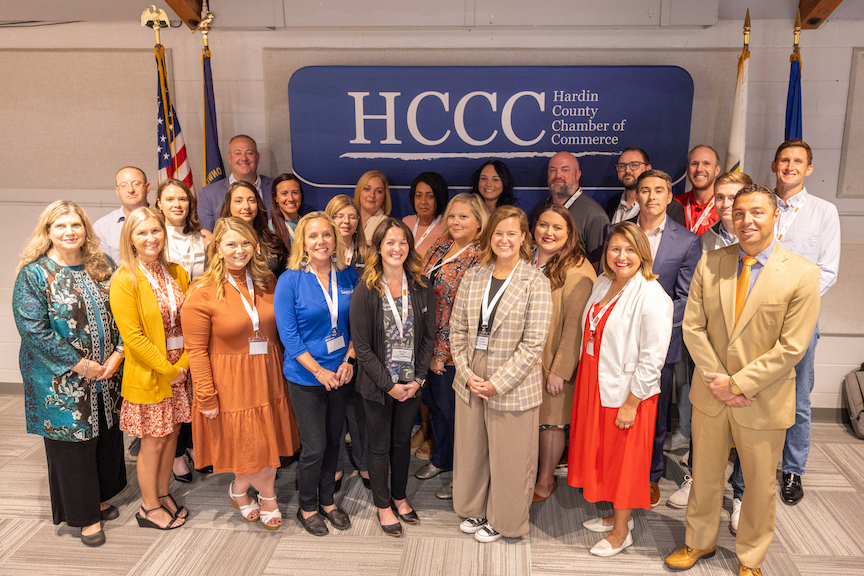 ELIZABETHTOWN, Ky. — The Hardin County Chamber of Commerce (HCCC) has announced the 2023-2024 Leadership Hardin County (LHC) class members. The annual nine-month-long program provides a unique opportunity for interested citizens to learn about the needs and resources of their community, focusing on the concerns and capabilities of the ever-growing region.
Through lectures, presentations, practical exercises, visitations, independent study and meetings with key community leaders, class members will examine the community's organizational structure and associated city, county, state and national resources available to assist the community in meeting the needs of residents. The program consists of nine monthly sessions, with the first set to take place in a team-building retreat in Frankfort. Sessions will cover topics such as the history of Hardin County, education, Fort Knox, economic development and health and human services. 
The class will be challenged to develop and implement a community project that solidifies the bond that develops between classmates while making Hardin County a better place to live, work and play. Through their class project, the 2022-2023 class developed a dog park at Vine Grove Optimist Park. 
LHC class members are a diverse group of dedicated individuals who are interested in examining and experiencing ways to help the communities in which they live. The program is essentially self-funded through tuition fees paid by the class members or their employers.
"Leadership Hardin County is not just a program; it's a transformative journey that empowers individuals to become catalysts for positive change in our community," said HCCC president/CEO Margy Poorman. 
The 2023 – 2024 class includes: 
Brandy Baumgardner, West Point Bank

Dorothy Beaver, City of Vine Grove

Stephanie Brown, Swope Family of Dealerships

Nate Cox, Baptist Health Hardin

Tonya Fulkerson, PNC Bank

Jey Gregory, Houchens Insurance Group

Melissa Goodman, Magnolia Bank

Tim Hahn, German American Bank

Davina Hall, Abound Credit Union

Michelle Kail, CASA of the Heartland

Andrew Kurtz, Elizabethtown Sports Park

Susan Loeffler, Abound Credit Union

Megan McDougal, Hardin County Government

Michelle Morrison, Abound Credit Union

Julie Nall, Lincoln Trail Behavioral Health System

Patrick Nickoson, Kinetic by Windstream

Morgan Puckett, WesBanco

Joe Reverman, City of Elizabethtown

Karen Roten, The Cecilian Bank

Joseph Scott, Hardin County Government

Dr. Telly Sellars, Elizabethtown Community and Technical College

Laura Selman, Abound Credit Union

Mollie Thompson, Lincoln Trail Area Development District

Austin Wright, The Wright Legacy Group
To learn more about LHC, visit hardinchamber.com/about-hccc/leadership-hardin-county.