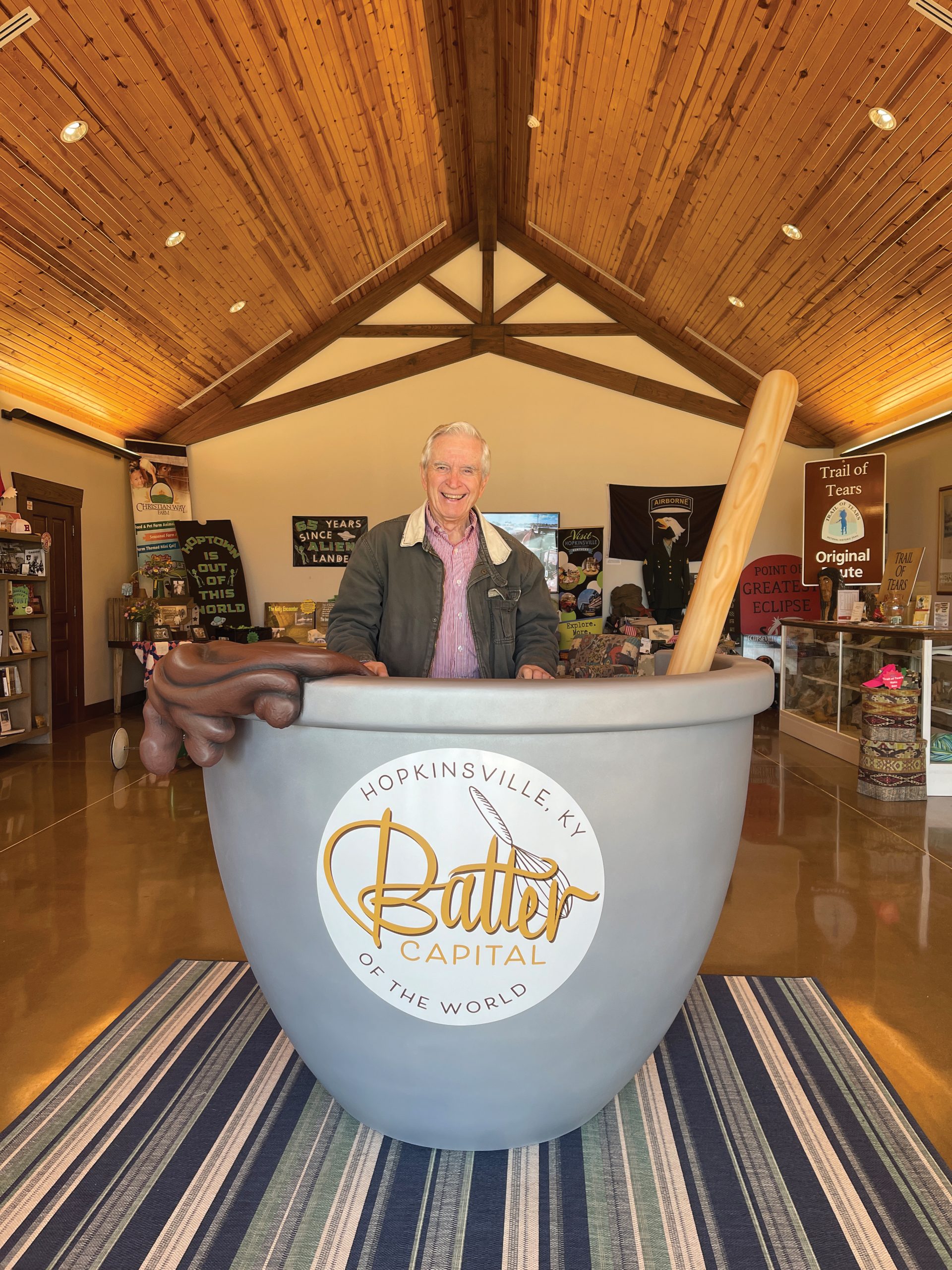 Until I turned 16, Hopkinsville was my home, and heartfelt memories of this small-town spot stay clearly etched in my mind. Especially fond recollections are of Sunday afternoons spent at my aunt and uncle's farm out Cox Mill Road. The forced relocation in the 1830s of indigenous peoples across Southeast, known as the Trail of Tears, crossed their farmland and my Uncle Mac would lead my sister and me on expeditions to discover pottery shards, grinding stones and loads of arrowheads buried in their cropland and along the banks of Little River.
Hoptown honors that bitter passage with its Trail of Tears Commemorative Park and Heritage Center, which lies on the Trail of Tears National Historic Trail. The site was once the location of a winter camp along the Northern Route of the trail. The center—housed in a 19th-century tavern—and trail markers tell the history of the movement and about the lives of two chiefs who died while camped there. A bridge crossing Little River leads to a picnic area at the site of the 1838 camp area and every September Hopkinsville holds a well-attended powwow.
It was not till I moved away that I began to appreciate the beauty of the area's farmland but had no idea of how productive its rich soil was. Currently, Christian County boasts 1,324 farms on 46,200 acres of land that produces 3 million bushels of wheat annually, making it the largest wheat-producing county in the state. With successful community partners for more than 173 years, Hopkinsville now mills 2 million pounds of flour daily that create globally recognized food mixes. Anchor industries such as Hopkinsville Milling Co., which produces SunFlower products and is the city's oldest industry, made way for more industries in the same market. The addition of Siemer Milling in 1995 and Continental Mills in 1998 continues to grow the daily production of food grade products and brands.
You probably recognize at least a few of the following products: Ghirardelli brownie mix; Krusteaz products that include pancake, muffin and waffle mixes; Cracker Barrel biscuit mix; Red Lobster Cheddar Bay biscuit mix; and SunFlower cornmeal and flour. As a result of so many well-known products like this being produced in Hopkinsville, the city has been named the Batter Capital of the World! (Learn more at battercapitaloftheworld.com.)
Wheat is also an important ingredient used by the area's local distilleries. Veteran-owned MB Roland, located just out of Hopkinsville in Pembroke, is a member of the Kentucky Bourbon Trail Craft Distillery Tour and is Kentucky's first completely grain-to-glass craft distillery. The grains used in its distillery come from nearby Christian County Grain in Pembroke. MB Roland offers bourbon whiskey and a variety of moonshine flavors.
Another member of the Kentucky Bourbon Trail Craft Distillery Tour, Casey Jones Distillery's grain-to-glass facility in Hopkinsville produces award-winning bourbons and moonshines.
Both facilities are on the self-guided Stateline Whiskey Tour, along with Old Glory Distilling Co. across the state line in Clarksville, Tenn. All distilleries offer tours and tastings, of course. Three distilleries within 30 miles, Kentucky bourbon and Tennessee whiskey—what a terrific combo!
The city is proud of its agricultural heritage, which is evident in its art installations like the Bale Trail, where participants use hay bales to construct creative designs and structures.
Hoptown has also been home to some uncommon historic happenings. The first was the birth of clairvoyant Edgar Cayce, also known as the "sleeping prophet" and "the father of holistic medicine." During his early 20s, Cayce lost his voice for nearly a year. Though doctors were brought in—including my grandfather, Dr. Manning Brown, a throat specialist—no medical cause was ever determined. When his voice returned, Cayce had become a medical intuitive who could relax into a trance and upon awakening, diagnose people's illnesses. On a self-guided cell phone tour, you can visit several sites that were significant in his life as well as his grave site.
Other tours include an African American History cell phone tour, Murals Across the County, and a tour of the historic Alhambra Theater, which was built in 1928.
A more recent occurrence that put Hopkinsville in the spotlight happened on Aug. 21, 2017, when a total eclipse of the sun took place. Hopkinsville happened to be the location that experienced the longest totality of darkness: 2 minutes and 41 seconds. More than 100,000 people from all over flooded the small town to experience the phenomenon.
Other sites of interest in the area include the Pennyroyal Museum, which is housed in the beautifully renovated old post office. The museum is an interactive and child-friendly must-see for everything Hopkinsville, including info on Cayce and the eclipse, plus such other historic events such as the 1907 Tobacco Wars and the Night Riders' attack on the town, the alleged 1955 landing of a space craft containing "little green men" that terrorized a farm family in nearby Kelly, local African American culture, and reams of other fascinating exhibits.
Directly across the street from the Pennyroyal Museum is the Woody Winfree Fire-Transportation Museum, which is a trip down memory lane. Here you'll see a 1909 Model 10 and 1926 Model T, early horse-drawn vehicles, gas pumps from the '20s and '30s, and a 1927 antique Chevrolet Pumper fire truck, the city's first, all housed in the old Hopkinsville fire station.
More attractions include the Don Pratt Museum at nearby Fort Campbell, a $5 ticket to a Hoptown Hoppers baseball game, or a relaxing stroll around the stone labyrinth in front of Grace Episcopal Church, which is modeled after the labyrinth at France's Chartes Cathedral.
While visiting this friendly, easily walkable town, check out the local eateries, such as Baked Hopkinsville, a fantastic bakery, or Ferrel's Snappy Service, a tiny restaurant that's been a wildly popular hamburger joint in downtown Hoptown since 1929.
Find out more at [email protected] or call (270) 887-2300.