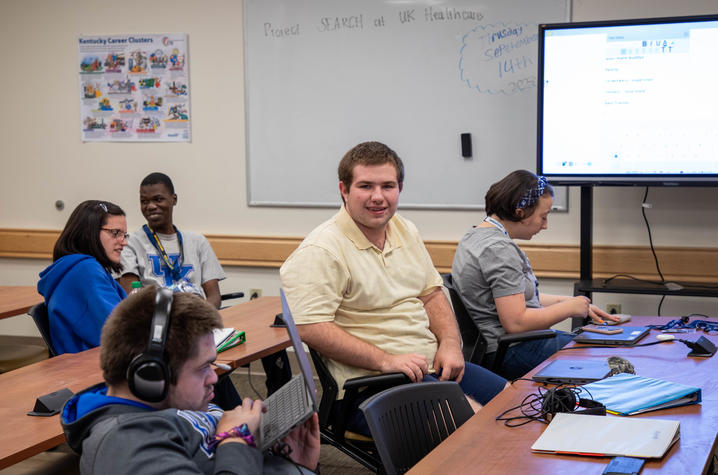 LEXINGTON, Ky. — In an office suite at the University of Kentucky Albert B. Chandler Hospital, Ella quickly and expertly sorts mail. In the nearby lobby atrium, Richard ensures visitors have enough masks and tissues. Daniel assists with moving and organizing medical supplies in the warehouse a few miles away.
These are a few of the newest interns at UK HealthCare, immersed in the day-to-day operations of the bustling hospital enterprise. They are also the first cohort of Project SEARCH students at UK HealthCare. A transition-to-work program for high school students with intellectual and developmental disabilities, Project SEARCH, offers young people immersive job experiences to help them develop new skills.
"We are thrilled to announce UK HealthCare as the first academic medical center in Kentucky to serve as a hub site for Project SEARCH. This distinction empowers us to provide the transformative Project SEARCH program to our inaugural student cohort and countless others in the years ahead," said Tukea Talbert, chief diversity and health equity officer at UK HealthCare. "We view Project SEARCH as an innovative and promising avenue to concentrate on students in Lexington who often encounter challenges. We want to help them overcome those obstacles by fostering meaningful pathways for them to discover purposeful and fulfilling employment."
Launched in August 2023, seven students from Fayette County high schools are taking part in a nine-month immersive internship, getting real-world experience and mentorship in different areas across UK HealthCare. They went through a skills assessment and were assigned areas based on their interests and abilities. These areas include hospital administration, environmental services, patient experience, central sterile services, purchasing and materials, and integrative medicine.
Project SEARCH was developed at Cincinnati Children's Hospital Medical Center in 1996 by Erin Riehle, director of the hospital's emergency department, and Susie Rutkowski, then a special education director. The goal was to create a training program for young adults with developmental disabilities that could fill some entry-level positions in the hospital. The program has since expanded to other industries, giving young adults important work and social skills necessary to find meaningful employment and earn income. Since its inception, Project SEARCH has grown to almost 800 sites in 48 states and 10 countries.
"The goal for each program participant is competitive employment," said Rutkowski, now the co-director and educational specialist for Project SEARCH. "The Project SEARCH model involves extensive skills training and an internship immersion experience. It gives the interns continuous feedback from the instructor, skills trainers and the departments where the internship occurs. As a result, students with significant intellectual disabilities are employed in nontraditional, complex and rewarding jobs."
"In Kentucky, there is a 42% gap in employment between those with disabilities and those without. With this collaboration, we are looking to help close that gap," said Eric Monday, UK co-executive vice president for health affairs. "I hope this partnership will lead to more project sites around the state so we can impact the Lexington community and all Kentuckians, no matter where they are from. That is our primary mission — to serve and advance Kentucky."
UK HealthCare partnered with UK's Human Development Institute (HDI), Fayette County Public Schools (FCPS) and the Kentucky Office of Vocational Rehabilitation (OVR) to become the fourth Project SEARCH site in the Commonwealth.
"The interns will learn a defined set of transferrable skills that will set them apart from other job seekers looking for employment within the health care field," said Ryan Henson, regional project manager and statewide Project SEARCH coordinator for OVR. "This immersive experience is an outstanding training tool for these students. In our other sites, many have gone on to advance in their employment and experience more than just a job but the foundation for a career."
OVR, part of the Kentucky Career Center, assists with the long-term vocational guidance, counseling, and financial support of the program in the job sites and facilitates partnerships between school systems and area businesses.
"It takes the right mix of school system support and the host business commitment to make the program successful," said Henson. "OVR will always support new sites as long as they promote the mission of our agency — training and employment of individuals with disabilities in Kentucky."
In addition to their on-the-job training, the students spend time in a classroom where they learn skills such as interacting with coworkers and workplace safety.
A typical day for the students includes classroom time to practice their workplace skills before going to their job sites for two hours. After lunch with their colleagues, they'll work briefly before returning to their classroom to wrap up their day. The students' questions about their experience can be applied to the next lesson.
To aid the team behind UK's Project SEARCH site, HDI will provide additional training throughout the year, including webinars, classes and activities. It will be involved as students transition from internships to employment.
"Empowering students through programs like Project SEARCH not only opens doors to new skills but also nurtures their limitless potential," said Kathy Sheppard-Jones, executive director of HDI. "Project SEARCH exemplifies our commitment to fostering meaningful opportunities for individuals with disabilities. Through this transformative program, we illuminate the path to independence, bridging the gap between education and employment for more inclusion moving forward."
As for the future partnership between Project SEARCH and UK HealthCare, coordinators on both sides hope to see new cohorts of students mentored by program graduates who have embarked on careers in health care.
The goal of Project SEARCH is not just to give students skills and work experience but to instill a sense of pride and independence in them.
"We all have the right to work and contribute. We all have a purpose every day when we get up," said Baker. "Confidence is the skill I like to see all our kids build. Their disability doesn't make them less or not able to do things. They do things differently."
"It's very important for us to invest in our people and bring on other talented individuals to create a healthier Kentucky. We also strive to continue to build an inclusive culture, welcoming people of all abilities. In doing so, we are bolstering the foundational pillars of our strategic plan here at UK HealthCare," said Talbert. "I believe big things start with small steps, and our unique group of students is taking the first collective step for our Project SEARCH site."
Learn more about Project SEARCH at UK HealthCare here.