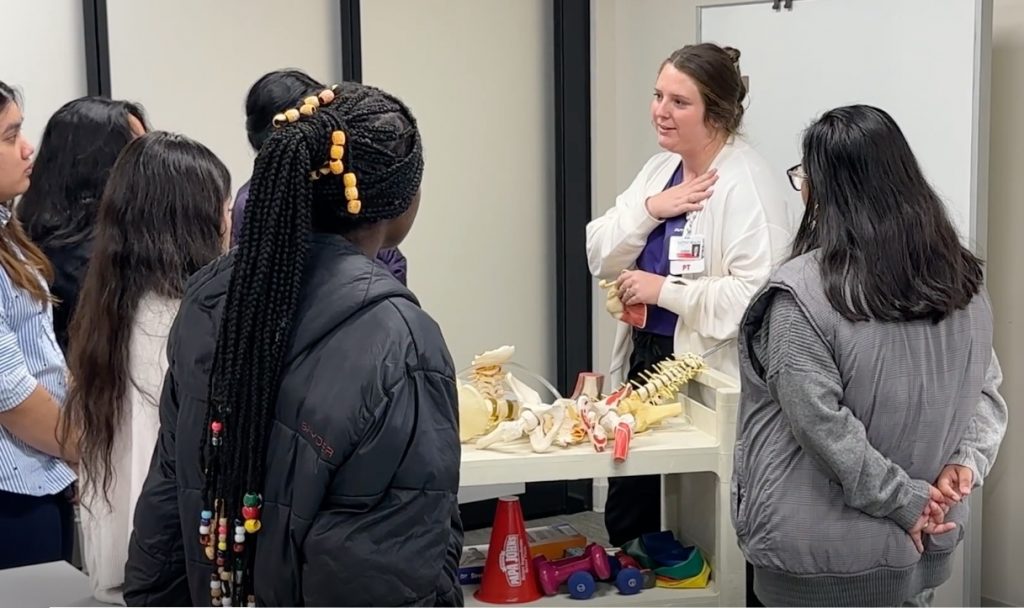 LOUISVILLE, Ky. — 30 high school seniors from Jefferson County explored medical careers with a hands-on experience at Baptist Health Louisville's Medical Academy. The students were from Jeffersontown, Manual, Moore, PRP, Seneca, and Waggener High Schools.
Tuesday's academy provided an opportunity for the students to tour the Baptist Health Louisville campus and to take part in experiences like a simulated birth, physical and occupational therapy sessions and speech pathology.
"There's a lot more understanding that comes with the hands-on experience. The students can see how the department flows. They can understand what a radiology department looks like instead of just reading a job description or a job application online. We give them the knowledge that they wouldn't have from reading or researching," said Alex Givens, human resource business partner at Baptist Health Louisville.
This is the second Baptist Health Louisville Medical Academy in 2023. The first one in July was such a success, Givens and her team knew they needed to provide more opportunities for students in the area to take part.
"We had an abundance of interest and clearly a demand and need for this in the community. With that and the feedback we got being so positive from the first group, we wanted to ensure that we offered this a few more times a year instead of just once annually," Givens said.
Givens said nearly 140 students registered for this week's session, but space limitations and availability limited the acceptance to 30 students. More academy sessions are planned for 2024.
"If we can win some of these awesome students over in the end and they become a Baptist employee, it's a win-win. But our ultimate goal is for them to learn, get exposure, learn about healthcare and hopefully find a career path that will lead them to successful healthcare options in the future," Givens said.
Formerly known as Baptist Hospital East, Baptist Health Louisville is a 519-bed hospital offering 80 points of care in a wide range of healthcare services. Area residents benefit from the hospital's emergency services, including special teams for heart attack and stroke care.
The hospital's cancer services include two Radiation Centers and the Charles and Mimi Osborn Cancer Center, which includes a cancer resource center and a multidisciplinary lung care clinic, gynecologic oncology clinic and dedicated nurse navigators. Special services include women's health, offering all-private maternity rooms and a newly expanded Neonatal Intensive Care Unit, 3-D mammography, ultrasound, and bone-density scanning for osteoporosis. Other areas of expertise include orthopedics, neurosurgery, cardiovascular services, bariatric surgery, wound care, Acute Rehabilitation unit and outpatient behavioral health. Baptist Health has a network of healthcare providers for patients in the metro Louisville area — from Baptist Health Medical Group physician offices, Occupational Health, Home Care to Baptist Health Urgent Care locations.
The hospital has achieved Magnet designation for excellence in nursing services by the American Nurses Credentialing Center's Magnet Recognition Program® for the third time. The hospital has been recognized by U.S. News & World Report as the #1 hospital in the metro Louisville area and is #4 in Kentucky for 2021-22.
Baptist Health Louisville is part of the nine-hospital Baptist Health system, headquartered in Louisville. Learn more at BaptistHealth.com/Louisville.