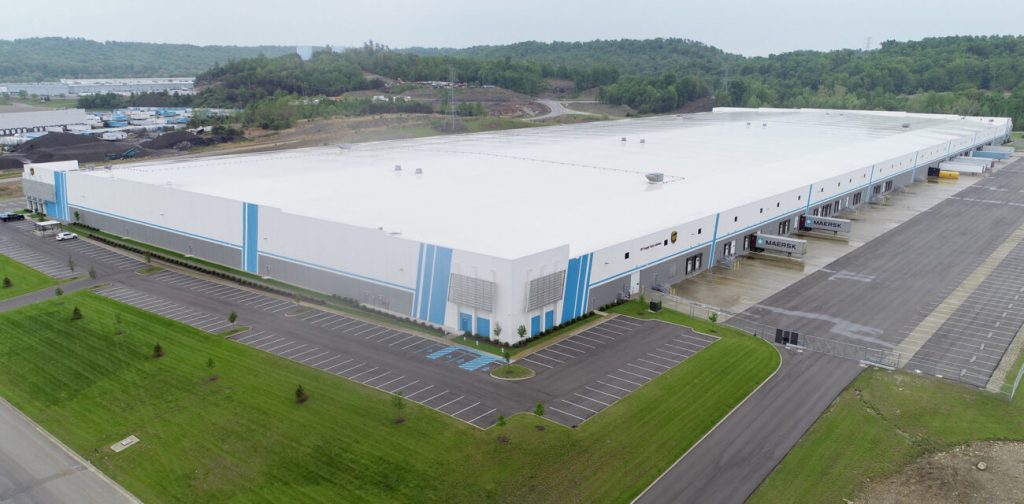 SHEPHERDSVILLE, Ky. — UPS Supply Chain Solutions leadership cut the ribbon on the company's $79 million state-of-the-art Velocity facility in Bullitt County, a project that is creating up to 500 distribution and logistics jobs and will operate with 3,000 robots.
The UPS Supply Chain Solutions Velocity facility is a state-of-the-art warehousing and distribution center using intelligent automation, machine learning and artificial intelligence to streamline fulfillment operations. Located in Shepherdsville, Velocity is one of the largest and most technologically advanced distribution facilities in the industry. It is UPS' largest warehouse.
"The Velocity facility is a modernized warehouse with a digital ecosystem that optimizes and orchestrates everything from order flow to labor management," said Kate Gutmann, UPS president of International, Healthcare and Supply Chain Solutions. "With the help of our skilled and diverse team members, the facility can process over 350,000 units per day."
That capacity makes it one of the most efficient package sorting facilities in the world. Velocity has staffed the facility with the help of UPS's Languages Across Logistics (LAL) program, which supports the recruiting, hiring, training, coaching, development, promotion and retention of refugees and immigrants for the UPS Supply Chain Solutions workforce.
Today's event builds on several announcements from UPS over the years, including an over $330 million investment announced in October 2022 that, across two new-location projects in Jefferson and Bullitt counties, is creating 435 high-wage jobs.
"With the support of LAL, community and government partners, we have been able to fill needed roles in Louisville, Hebron and Shepherdsville with diverse candidates," said Steve Gundlach, president of UPS Supply Chain Solutions Global Logistics and Distribution. "The multi-language technology streamlines training to allow new employees to get right to work, even if the supervisor speaks a completely different language."
UPS is one of the world's largest companies, with a 2022 revenue of $100.3 billion, and provides a broad range of integrated logistics solutions for customers in more than 200 countries and territories. Focused on its purpose statement, "Moving our world forward by delivering what matters," the company's more than 500,000 employees embrace a strategy that is simply stated and powerfully executed: Customer First. People Led. Innovation Driven.
UPS is committed to reducing its impact on the environment and supporting the communities it serves around the world. UPS also takes an unwavering stance in support of diversity, equity and inclusion.
"It takes serious trust and a belief in Kentucky's resources and opportunities for a company to commit to locate here," said Gov. Andy Beshear, who participated in the ribbon cutting with local public officials. "UPS is a prime example of one of the largest companies in the world doing just that, trusting in the commonwealth. UPS has a long history in the state, and I am excited to see them continue to grow and thrive here. I want to thank company leaders for their continued investment in Kentucky and the Bullitt County community and congratulate them on this major milestone."
Bullitt County Judge/Executive Jerry Summers welcomed the company to the community: "It is exciting to have an international company such as UPS join our community. UPS is revered all over the world, country and in Kentucky, and now they have settled in to become a part of Bullitt County. I could not be prouder to welcome them here. I look forward to an extended partnership as they continue to grow within our community."
Shepherdsville Mayor Jose Cubero showed his excitement for the partnership: "The city of Shepherdsville is honored to have a partner like UPS. We are excited about their facility in our community. They will make an impact in our city, and we look forward to a wonderful relationship. Our future is brighter together!"
Bob Fouts, director of the Bullitt County Economic Development Authority, spoke about UPS's influence on the county: "It is a great day for Bullitt County to celebrate another UPS announcement that brings quality jobs and investment in Shepherdsville. They have been instrumental in the county's growth."