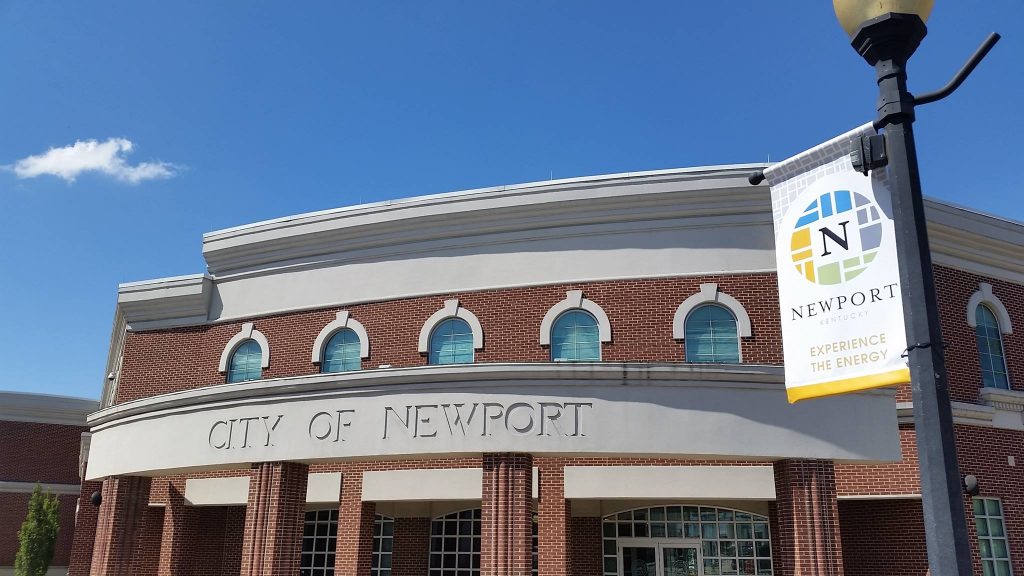 NEWPORT, Ky. – The City of Newport has roared back from the shutdowns and slowdowns of the COVID pandemic by attracting $100 million in new commercial and residential development while making continued improvements to the city's infrastructure, public safety and overall quality of life.
"The past few years have been difficult and challenging, but we are beginning to see light at the end of the tunnel," Newport City Manager Tom Fromme said Wednesday during his annual State of the City Address. "It is times like this where we discover how resilient our community actually is. Now is the time to reignite our optimism and look both backwards and forward at our accomplishments and future goals."
Work is continuing at a brisk pace on Ovation, the $1 billion, 25-acre urban mixed-use development at the confluence of the Ohio and Licking Rivers. The Mega-Corp Music Pavilion is open for events, an office building and hotel are nearing completion and 1,000 residential units and 125,000-square-feet of retail and entertainment space are planned.
The completion of the KY 9 corridor that connects the city's riverfront with Interstate 275 has opened up a new growth corridor that is attracting residential redevelopment and reinvestment of homes in the city's historic west end.
Newport continues to invest in infrastructure, and in 2023 and beyond plans call for improvements to the South Monmouth Street corridor and the renovation of Festival Park, the riverfront venue that hosts dozens of annual events and attracts hundreds of thousands of visitors to Newport each year.
Redevelopment of Newport on the Levee continues under its new owners, with several more phases planned. A mixed-use hotel and office building is planned for the site adjacent to the World Peace Bell and the citywide street and sidewalk paving program will continue. Streetscape improvements are also planned on Monmouth Street, the city's vibrant downtown business corridor.
"We foresee a stable and growing employment and business base have any significant developments on the horizon and see growing property valuations," Fromme said. "We also continue to focus on vacant properties and foreclosures so those can be converted back into housing."
Newport is in a solid financial foundation, maintaining an A+ credit rating – even during the COVID crisis and with inflation at a 40-year high – and building a cash balance of $5.12 million on an annual budget of approximately $25 million.
"Over the last few years, the City's net payroll revenues have increased dramatically," Fromme said. "In 2022 the City gained a net 38 new companies and 159 net new employees. This growth is critical since payroll taxes are our primary source of revenue, accounting for approximately 32 percent of our budget."
In addition, the city has invested more than $100 million in construction of affordable housing units over the last several years.
Like all cities, Newport continues to face challenges that include the maintenance and repair of aging infrastructure, rising pension costs, access to affordable quality housing and – because under state law cities are not permitted to levy a sales tax – limited revenue streams. 
Looking forward, Newport's strategic goals are:
Strong vibrant neighborhoods.

Establishing meaningful places.

Economic prosperity and resilience.

Transportation, access, mobility and utilities.

Environmental Stewardship.

Healthy and safe community.

Good government.
"Our operational goals for Fiscal Year 2024 continue to include further redevelopment of residential and commercial properties, working on quality of life issues such as parks and recreation, improved transparency through effective use of social media and maintaining a safe, walkable community," Fromme said. "From a fiscal perspective, we continue working on growing revenues, improving our credit rating and keeping our expenses reasonable."