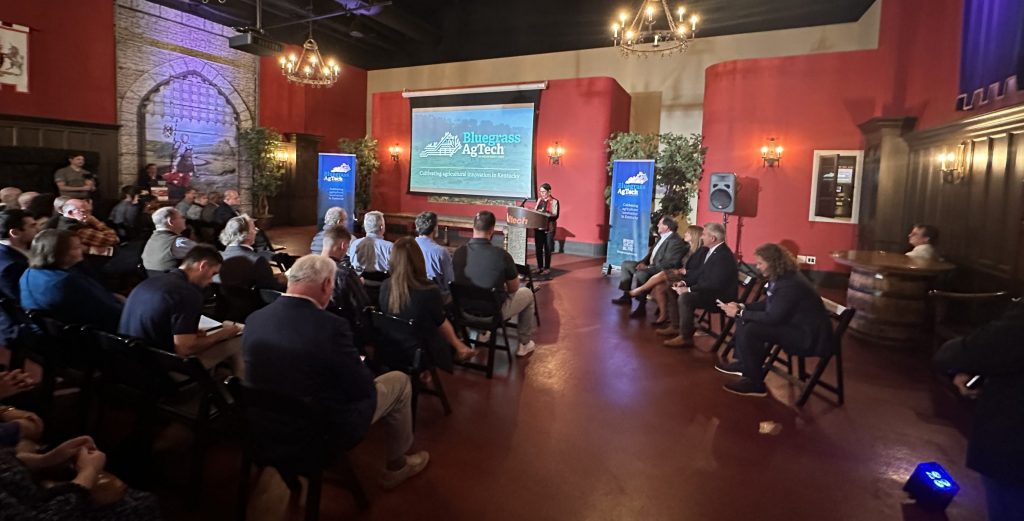 LEXINGTON, Ky. — Bluegrass AgTech Development Corp today announced a new incentive grant program designed to encourage agtech and food-based businesses to locate in Kentucky.

"We want to become the international address of agtech businesses," Mayor Linda Gorton said. "As the expertise within our Bluegrass AgTech partnership demonstrates, with this grant program, we've got everything a new business needs to be successful in agtech or food-based technology." Bluegrass AgTech, which is cultivating an innovation ecosystem for entrepreneurs and startups in the agricultural sector, is a partnership among City of Lexington, the Kentucky Department of Agriculture, the University of Kentucky Martin-Gatton College of Agriculture, Food and Environment, and Alltech.
"As a founding member of the Bluegrass AgTech Development Corp, we are excited to harness UK's success in research innovation to advance both economic development and the success of Kentucky's farm and food sectors," said Dr. Nancy Cox, Vice President of Land-grant Engagement and Dean of the Martin-Gatton College of Agriculture, Food and Environment.
Through its challenge grant program, Bluegrass AgTech will connect agricultural innovators with both public and private funding sources and incentives, attracting new agri-food and agri-business companies to Kentucky, boosting the economy, and unlocking a more affordable, nutritious and environmentally sustainable food future for Kentucky and beyond.
"Alltech is proud to support Bluegrass AgTech's mission to transform Kentucky into the agricultural technology capital of the United States," said Dr. Mark Lyons, President and CEO of Alltech, an international company focused on improving the health and performance of people, animals and plants through nutrition and scientific innovation.
"For us, this project started years ago, when my father, Dr. Pearse Lyons, saw the potential ag-tech could bring to his adopted home here in Central Kentucky," said Lyons, who serves as chair of the Bluegrass AgTech board of directors. "Bluegrass AgTech's innovation ecosystem will lead to the development of technologies that boost productivity and profitability for farmers, support advancements in environmental sustainability, and achieve greater nutrition and food security. These technologies will be highly relevant to our traditional Kentucky ag sectors and those that will emerge in the future."
Bob Helton, executive director of Bluegrass AgTech Development Corp, said the challenge grants offer incentive funding, valuable resources and promotional opportunities.
"We hope to add additional partners to the organization so we can continue to grow the program," Helton said.
Each applicant may apply for up to $100,000 of grant funding in the first year of the program. Selected grant recipients will also be offered resource support, such as mentorship, referrals to professional services, connections to local growers and research teams, and other business development assistance.
Applicants must be able to provide a 100% match. The program is open to registered, for-profit businesses currently located in or willing to establish a presence in Lexington or Kentucky, with an emphasis on startups and early-stage businesses. Applications, available here, must be completed by March 1, 2024.
Lexington contributed $1 million to establish the grants and get the partnership started. The state also provided $1 million through the Kentucky Agricultural Development Fund.
"Kentucky's world dominance in the horse industry, bourbon production, genetic progress in poultry, and sustainability advancements in no-till farming shows how impactful our agriculture community can be," Commissioner of Agriculture Dr. Ryan Quarles said. "We believe that Kentucky can step up to the challenges facing our agriculture communities and become the agriculture hub of technology and innovation in the United States. This is the next process to making that a reality. Our agriculture community and our state as a whole deserve that chance to make these great moves forward."
Projects proposed for funding must address at least one of the following five focus areas:
Solutions for Mid-Size Farming – Customizing technologies to support mid-sized farms

Sustainable Food Systems – Driving diverse and sustainable agriculture ecosystems

Food is Health – Addressing health needs through affordable and accessible nutrition

Future-Proof Animal Protein – Building a protein-secure future for the world's growing population

Kentucky Traditions – Leveraging Kentucky's equine, food and beverage expertise.