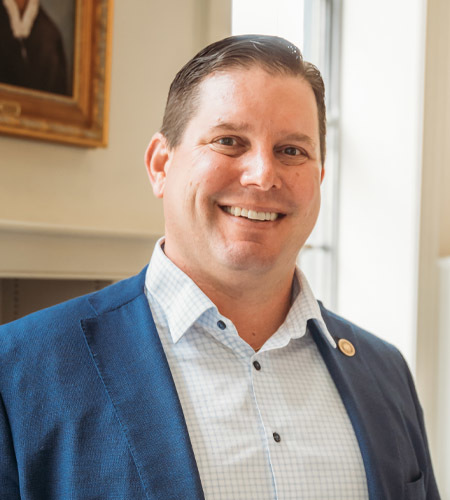 MIDWAY, Ky. — The Managing Partner for Morgan & Morgan's Kentucky offices, Jonathan Rabinowitz, has joined the Midway University Board of Trustees.
"We are excited to announce Jon's commitment to join the board," said Board Chair Donna Moore Campbell '62. "His business experience and background are a great fit."
Rabinowitz, who was sworn in at the November 2, 2023, meeting of the Board, says he is looking forward to serving on the Board of Midway University.
"My work takes me all around Kentucky and out of state, but my family and I have made Woodford County our home," he said. "This is such a special place to me. Supporting Midway University's educational mission and its continued growth is essential for our community. I hope to bring some of my business experiences and educational background as a former student-athlete to assist the University."
In addition to his duties as Managing Partner, he devotes a substantial portion of his practice to catastrophic personal injury cases, wrongful death claims, complex litigation, and complex governmental actions. In April 2020, Mr. Rabinowitz was appointed by Governor Beshear as Chairman of the Kentucky Horse Racing Commission.
Rabinowitz graduated Magna Cum Laude from Newberry College, where he played football and was Student Body President. He obtained his Juris Doctor from the University of Louisville School of Law, where he was Torts Editor of the Journal of Law and Education.
Rabinowitz is married to Kathleen Kelly Rabinowitz, with whom he has three children: Caroline, Madelynn and Charlotte. They reside in Versailles, Kentucky. Kelly teaches preschool in Woodford County, and his children attend Woodford County Public Schools. They are also small businesses in Woodford County (co-owners of Amsden Bourbon Bar and Vallozzi Versailles).
Click here for more Big Moves.