Quarter-mile stretch of road was widened from four lanes to six
LEXINGTON, Ky. (Oct. 2, 2014) — Drivers along the Clays Mill Road corridor now have an easier time crossing Man o' War Boulevard with the completion of a road widening project at the heavily traveled intersection. Today, Mayor Jim Gray joined 9th District Councilmember Jennifer Mossotti and Clays Mill area residents and representatives from the Kentucky Transportation Cabinet for a ribbon cutting ceremony to celebrate the improvements.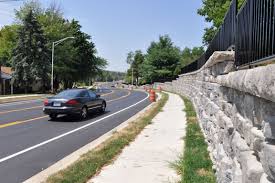 "This project builds on the Clays Mill Road upgrade made in 2012," Gray said. "The added lanes and new sidewalks on Clays Mill Road will improve safety and access to neighborhoods on both sides of Man o' War, while easing traffic congestion."
Council member Mossotti credited the invaluable input from area neighbors, churches, schools and retailers in making the project a success. "From the original discussions of widening the road dating all the way back to the 1980s, to the completion of this section just days ago, we have come a long, long way," Mossotti said. "It is truly a community effort and accomplishment of which we can all be proud."
A quarter-mile stretch of Clays Mill Road, from Higbee Mill Road to Twain Ridge Drive, was widened from four lanes to six as part of the project. According to the Lexington Area Metropolitan Planning Organization, the long-range transportation planning agency for Fayette and Jessamine counties, more than 45,000 vehicles travel through the Clays Mill/Man o' War intersection each day. In addition to the extra travel lanes, the project also included:
Bike lanes
New sidewalks
An extended box culvert over South Elkhorn Creek
Concrete pavement installed at all four approaches to the Clays Mill/Man o' War traffic signal to eliminate rutting in the road pavement
Textured retaining walls which stretch up to 800 feet long and 20 feet tall
New landscaping of small shrubs, Red Maple and Tulip Poplar trees (to be planted soon)
Work on the widened intersection began in October 2013. City engineer Keith Lovan, who oversaw the project, said crews from Bluegrass Contracting worked through one of the coldest winters on record and an extremely rainy August to complete the project in a timely manner. A mix of federal, state and local dollars funded the $3.7 million project.
The City began working with residents and businesses along the Clays Mill Road corridor more than 10 years ago to put together a long-term improvement plan for the road that would reduce traffic congestion and accidents, and preserve the residential character of the area. The section of Clays Mill Road between Higbee Mill Road and Twain Ridge Road is the second phase of the plan to be completed.
The first phase of the project, from Higbee Mill Road to Keithshire Way, was finished in 2012. Construction on another section of Clays Mill Road, from Keithshire Way to Waco Road, will begin next year.