LOUISVILLE, Ky. (Oct. 2, 2014) — The University of Louisville has hired Harlan Sands as senior vice president for finance and administration and chief operating officer, effective Jan. 1, 2015.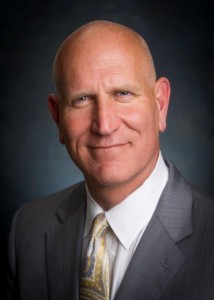 Sands currently is vice provost for administration and quality improvement at the University of Alabama at Birmingham where he oversees financial, personnel and administrative operations of the academic units that report to the provost. At UofL, Sands will be the university's chief financial officer, chief operating officer and a member of President James Ramsey's leadership team.
"Harlan Sands is a tough, fair, likable administrator who will take our financial and operations management to a new level," Ramsey said. "It is the right time for UofL to make changes to our administrative structure, and Harlan is the right person to help us make the transition."
Ramsey said the new post takes advantage of the retirements of two vice presidents and collapses the financial and business functions into one administrative unit. The new position is fundamental to many of the recommendations in the 21st Century University initiative and was recommended by Strothman and Company during its review of the university's financial operations.
Sands joined UAB in 2007 where he has also served as associate provost for administration and finance. Prior to UAB, he held a number of different positions at Florida International University, including associate vice president for research. He helped establish the operating and budgeting structure for FIU's College of Health and Urban Affairs while teaching 10 courses in the Department of Criminal Justice. Sands' background also includes 10 years in the U.S. Navy where he attained the rank of Lt. Commander and four years as an assistant public defender in the Miami court system.
"I'm very excited about joining the senior leadership team at the University of Louisville," Sands said. "Dr. Ramsey has laid out an ambitious vision for UofL, and I believe my skills will be helpful at this critical point in the university's trajectory."