Dr. Dustin Wygant recognized by Society for Personality Assessment
RICHMOND, Ky. (Oct. 3, 2014) – Dr. Dustin Wygant, associate professor and director of clinical training in Eastern Kentucky University's Department of Psychology, has earned national recognition from the Society for Personality Assessment.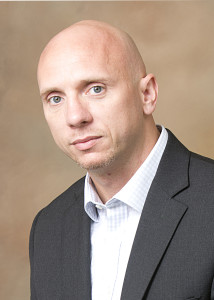 Wygant learned recently he is the recipient of the prestigious Samuel J. and Anne G. Beck Award, presented by the Society annually for outstanding early career research in the field of personality assessment. The Society will recognize him at its annual meeting in Brooklyn in March 2015.
"SPA is the premier professional organization in Dustin's area of research, and this award is a big deal," said Dr. Bob Brubaker, chair of the EKU's department of psychology. "Some of the previous Beck Award winners are among the biggest names in personality assessment research."
Wygant's research is focused on conceptualizing the psychopathic personality as well as improving the utility of psychological testing in medical, forensic and correctional settings.
He received a similar honor from the Society in 2010 when he was selected as that year's John E. Exner Scholar.
Earlier this year, Wygant presented the Ruric and Mary Roark Distinguished Lecture at EKU, addressing "Reflections on Psychopathy: Elucidating the Criminal Mind and Personality." In 2011, he received the Outstanding Undergraduate Mentor Award from the Kentucky Psychological Association Foundation.
A licensed psychologist in Kentucky and Ohio, Wygant joined the Eastern faculty in 2009. He earned a bachelor's degree in psychology from Miami University in Oxford, Ohio, and master's and doctoral degrees in clinical psychology from Kent State University.
Wygant will head EKU's recently approved Psy.D. program in clinical psychology when it launches in Fall 2015. The program is designed to prepare psychology practitioners to work in underserved rural areas.