Patton is school's chancellor
PIKEVILLE, Ky. (Jan. 28, 2015) — The University of Pikeville announced that is has named its newly formed College of Education after former Gov. Paul Patton, who was the school's president from 2009-13 and is its current chancellor. The Patton College of Education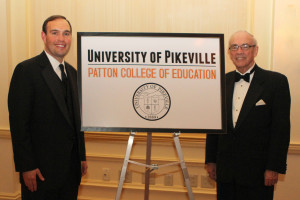 "Governor Patton has done more than anyone to promote education in the commonwealth," said UPIKE president Dr. James Hurley. "He was known nationally as the 'higher education governor' and his 40-plus years of service to the University of Pikeville is an illustration of his passion for education. It was an honor to name our fifth college the Patton College of Education."
As governor, Patton was a national leader, particularly in education policy. He proposed and championed the successful passage of Kentucky's Higher Education Reform Act in 1997, an effort that has been recognized as a model of progressive higher education policy. He also made substantial improvements in Kentucky's pre-school and adult education programs, as well as successfully maintaining the momentum and funding for the Kentucky Education Reform Act. Patton was also chairman of the Kentucky Council on Postsecondary Education from 2009-2011.
His tenure as president included a historic move from college to university status, implementation of the first master's degree programs, an MBA and Master of Science in Sport Management, record enrollments and the opening of the Coal Building, a $40 million educational facility for the Kentucky College of Osteopathic Medicine.
"I have been reluctant to have my name appended to projects or buildings or programs in which other people have been more involved," Patton said. "I do think education is my legacy and to have my name added to the college, which I hope will be here long after I leave, is a great honor I trust I have earned."
In December, the university announced that longtime educator David Barnett, Ed.D., would be the founding dean of the college of education.
Barnett said initiatives include strengthening partnerships with school districts, educational cooperatives and community organizations. The college will also provide opportunities for aspiring and practicing educators through professional development and integrated learning experiences, like the new Center for Servant Leadership and a master's degree in school administration.
Related news: