Work could lead to brief traffic interruptions
SALYERSVILLE, Ky. (Feb. 5, 2015) — Crews with Bizzack Construction LLC continue to clear land along a 1.4 mile section of the Mountain Parkway, and soon they will begin creating a wider path to expand the road.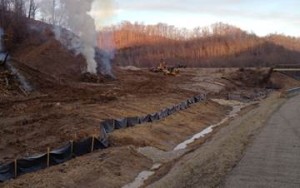 Drilling of rock is scheduled to begin Monday and the first surface blasting along the parkway is expected to take place late that day or early the next day, near mile point 70 of the Mountain Parkway.
Periodic blasting will continue to take place in the area over the next few weeks during daylight hours. Prior to each blast, traffic must be stopped on the Mountain Parkway for up to 20 minutes for the safety of the workers and the traveling public.
Related news:
Mountain Parkway Expansion to begin next week