Will give Louisville 15 all-electric buses
LOUISVILLE, Ky. (Feb. 5, 2015) — Transit Authority of River City (TARC) has received a $3.3 million grant by the Federal Transportation Administration to add five more all-electric ZeroBus vehicles to the fleet. The buses will arrive in 2016.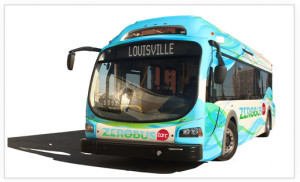 Louisville's 10 ZeroBus vehicles began operating on downtown circulator routes on Jan. 12 in place of diesel-fueled trolleys, providing free rides and Wi-Fi onboard. The service operates Monday through Saturday, arriving at stops every 10-18 minutes along Main, Market and Fourth street corridors.
"The ZeroBus has operated only 22 days and that's already resulted in a reduction of nearly 2,000 pounds of harmful emissions into the air downtown, compared to emissions we would have had with the trolleys that were replaced," said TARC executive director J. Barry Barker.
TARC requested the $3.3 million grant from the FTA's Low or No Emission Vehicles Deployment Program (LoNo), as part of a $5.9 million expansion of ZeroBus service and related upgrades. TARC will use $1.6 million from its annual federal funding and $917,750 in local funding to complete the project, under the plan.
In addition to the five ZeroBus vehicles, the grant includes funding for a third on-route charging station and initial development of a solar-paneled roof on TARC's 200,000 square foot bus storage building behind Union Station.
Related news: