Zero-emissions buses replace diesel-powered trolley
LOUISVILLE, Ky. (Jan. 12, 2015) — Mayor Greg Fischer joined TARC and other local officials today at the Louisville Slugger Museum to kick off the start of ZeroBus service in downtown Louisville.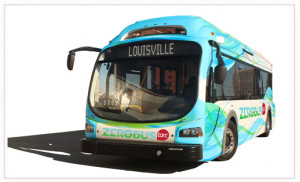 ZeroBus, TARC's all-electric fleet, is now providing fare-free rides for passengers along Main, Market and Fourth streets. The zero-emissions all-electric buses replace diesel-powered trolleys, the highest polluting TARC vehicles.
"ZeroBus changes the game for public transportation in downtown and represents the type of progress and forward-thinking focus we are embracing to improve our city," said Fischer, who joined TARC Executive Director J. Barry Barker and others on a maiden ZeroBus trip.
The vehicles, with free wi-fi onboard, arrive at stops frequently—from every 10-18 minutes depending on the time of day —and offer a quiet ride. With expansive windows, an oval shape and a colorful blue and green design, they're a distinctive addition to downtown.
"The city's replica 'Toonerville' trolleys have helped downtown's revitalization over the years and all-electric buses can help take us to the next level," Fischer said.
The all-electric system—10 buses and two charging stations—is an $11 million investment, with the bulk of funding from federal and state grants.  Louisville Metro contributed $500,000.
The ZeroBus recharges in just a few minutes along the route while passengers load and unload at a charging stop. Each time a ZeroBus pulls up to a charging stop, it automatically connects to an overhead, high-capacity charger. Charging stops are on the south side of Market Street, between Eighth and Ninth streets, and on the west side of South Third Street, between York and Breckinridge streets.
Since 2010, Proterra Inc., of Greenville, S.C., has produced 38 of these type of vehicles which are operating in eight other states, mostly on the east and west coasts.
The five oldest trolley buses combined now emit a total of about 1,135 pounds of carbon monoxide in a year, compared to zero emissions from the all-electric buses. TARC will also save thousands of dollars each year in lower operating costs. In fuel costs alone, each electric bus will save TARC an estimated $10,000 per year.
Main-Market ZeroBuses circle between 10th and Campbell streets. On Fourth Street, the buses travel between Breckinridge Street and the Galt House, circling around Fourth Street Live! by taking Fifth Street northbound and Third Street southbound. South of Broadway the buses travel south on Third Street and north on Fourth Street.
ZeroBuses operate on Fourth Street from 7 a.m.-7 p.m. and on Main-Market from 7 a.m.-8 p.m. on weekdays. Buses run on both routes from 10 a.m.–6 p.m. on Saturdays. The Main-Market route features red ZeroBus stop signs. Green bus stop signs are on the Fourth Street route.