2010-2014 (in current thousands of dollars)
The National Agriculture Statistical Service significantly revamped its process for gathering and reporting farm commodity cash receipts in the past year. Gone are familiar line items such as Equine, whose cash receipts figures are now incorporated into the Miscellaneous Livestock line and measured in a manner that drastically trims what is counted for Kentucky.
Under the new federal reporting process, said Dave Knopf, regional director of the NASS office in Louisville serving Kentucky, North Carolina, Tennessee, Virginia and West Virginia, revenues accrue to the home state of the owner of a horse operation rather than the state where the operation takes place. That has a large impact for Kentucky, where many of its Thoroughbred farms have owners who live in other states or overseas.
The NASS farm cash receipts reporting process yields figures for a calendar year in the final quarter of the following year, so the most recent Kentucky report is for 2013 and the previous three years. The new reporting process brought downward revisions of 8.3-9.5 percent for Kentucky farm gate receipts for 2010-2012.
The commonwealth's 2012 receipts figure of $5.28 billion is revised to $4.84 billion in the NASS report released late last year using the new methods. Much of that decrease can be attributed to the new measure for equine operations. Under the previous system, Kentucky's equine receipts were part of the Other Livestock line item that for 2012 was reported at $882.2 million. The new Miscellaneous Livestock figure for 2012 is revised to $315.8 million.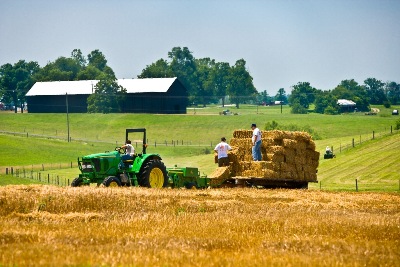 The good news is that cash receipts for Kentucky farms in 2013 jumped 17.5 percent from 2012 to a total of $5.69 billion.
The Oil Crops category, which includes soybeans and canola, had a dramatic gain of 45.5 percent in receipts to $1.05 billion in 2013. That moved it far ahead of Corn, which had been the top Crops receipts category, but decreased 10.4 percent from 2012 to $782.5 million. Crops collectively increased 15.5 percent in 2013 to an overall $2.89 billion in Kentucky.
The Livestock and Products category increased 19.6 percent in 2013 to a total of $2.8 billion overall. The Miscellaneous Livestock category, including the rebounding equine sector, grew its measured receipts by 28.7 percent in 2013 to $406.5 million. The Cattle/Calves category increased 28.8 percent to $835.8 million in the 2013 receipts report.
Other significant gains occurred in Wheat, which increased 42.7 percent in 2013 in Kentucky to $280.1 million, and in Broilers, which increased 16.7 percent to $1.01 billion.