Jessamine County is home to the nation's very first winery and vineyard
by Katherine Tandy Brown
You may be aware of the rapid growth of Kentucky's wine industry over the past 10 to 15 years. But did you know that the nation's first winery and vineyard was in Kentucky? Thanks to a Jessamine County history buff, you can now taste the same variety of wine produced in the early 1800s, fruit of the vine that received a hearty thumbs-up from the president of our country way back then. And all only 20 miles from Lexington.
In 1796 John James Dufour arrived in America from Switzerland looking for an ideal site to create a winery, based on his family's generations of success in the business. After two years of searching the banks of the Mississippi and Ohio Rivers, the successful Swiss vintner, surveyor, civil engineer, mason, inventor and entrepreneur finally decided upon a tract of land on the Kentucky River in Jessamine County originally surveyed by Daniel Boone in 1784. To help defray start-up costs, Dufour solicited shareholders and by 1799 had gathered 113 subscribers, among those such celebrities as politician and orator Henry Clay, Kentucky Gov. James Garrard, U.S. Congressmen John Brown and George Nichols, first dean of law at Transylvania University.
In the spring of 1799, Dufour planted his vineyard, named it First Vineyard, and by the fall of 1803, made his first wine. The following spring, a number of his subscribers and dignitaries from the Kentucky Vineyard Society gathered at John Postelwaite's Tavern to celebrate the nation's first wine drunk from a commercial vineyard. The Kentucky Gazette reported the event, noting that attending orators and politicians waxed eloquent for toast after toast.
In 1805, Dufour sent two five-gallon casks of First Vineyard wine by horseback to President Thomas Jefferson for his critique. His return letter of approval is but one of numerous historical documents framed for all to see these days at the winery. Guests who come for tastings can learn how Dufour initially selected the spot for First Vineyard and hear fascinating tales of its first family from the man whose passion for history initiated the winery's rebirth.
"When I discovered that this was the site of the first commercial vineyard and winery in the U.S., I decided to recreate it because it was too much a part of history to let it go," said owner Lee Beall.
Though he had no background in viticulture or eneology, Beall found folks in the industry to be very generous with their help. He also was fortunate to have access to Dufour's book, "The American Vinedresser's Guide," describing the early vintner's experiences in creating his original business.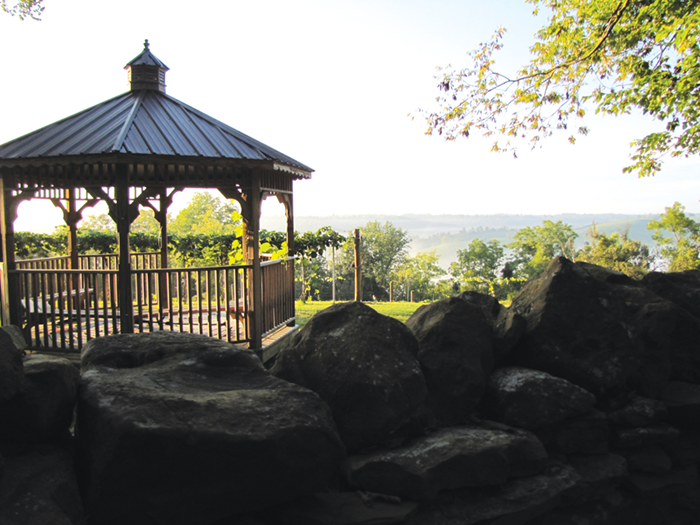 "Our main goal when restoring the vineyard and winery has a lways been to recreate as closely as possible the type of dwellings and vineyard plantings that would have been found in the late 1700s," said Beall (pronounced "bell"). Kentucky laws initially required that a structure had to be placed on any purchased parcel of land, usually had to be built of log, brick or stone and had to be at least 16 feet by 16 feet. First Vineyard's winery is a 20 feet by 20 feet recreation of the type of hand-hewn log structure that would have existed during that period but, of course, with modern conveniences of electricity and plumbing.
After acquiring the property in 1994, Beall cleared the land, identifying old terraces and using existing stones for rock walls and building foundations. In 2008 he planted 40 Cape Grape vines, the same variety as Dufour, along with Reisling and Norton. Over the next few years, Beall added more Nortons, Vignoles and Diamonds. And finally in 2012, First Vineyard opened its doors once again, 200 years after Dufour did the same.
An ideal spot for a corporate retreat, First Vineyard offers overnight lodging with seven bedrooms for seven to 14 guests, depending upon the desired configuration. A conference room can accommodate up to 50, and a heated and cooled, all-weather pavilion can handle up to 232. The modern building has a caterer's kitchen, dressing rooms, and a dance floor and stage, plus lovely views of the vineyard, Kentucky River valley and rolling Jessamine County hills.
Guests can revel in breakfast on the deck amid country quiet, with the peace broken only by birdsong and an occasional visit from deer and wild turkeys in the early morning hours.
First Vineyard also has the longest history of weddings of any vineyard and winery in the United States, as the first celebration took place in 1806, when John Francis Dufour married a neighbor, Polly Critchfield. Today the property is loaded with picturesque spots, while the pavilion is ideal for a reception.
Should you choose to explore the area while visiting, First Vineyard can design an itinerary to keep you busy. The property lies within a 45-minute drive of eight wineries and several distilleries, historic Camp Nelson, the homes of Henry Clay and Mary Todd Lincoln, the Kentucky Horse Park and numerous horseback riding facilities, and a slew of water activities, including canoeing and fishing.
Or you can just put your feet up and chill with Beall's best! ■
Katherine Tandy Brown is a correspondent for The Lane Report. She can be reached at [email protected]