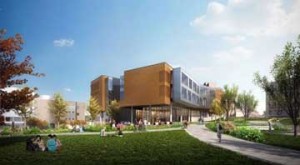 Highland Heights, Ky. – Northern Kentucky University has received an $8 million gift from St. Elizabeth Healthcare to support its new Health Innovation Center, NKU President Geoffrey S. Mearns and St. Elizabeth Healthcare CEO Garren Colvin announced.
"This generous investment will benefit our students, faculty and the community for years to come," Mearns said. "Today we celebrate our partnership with St. Elizabeth Healthcare and this new step we take together to lead with excellence and leave a lasting impact upon healthcare in our region, the Commonwealth, and the nation."
The $8 million investment directly supports the design and construction of simulation facilities, including a two-story comprehensive virtual care environment that will provide students with an active learning experience and training across the continuum of care. This simulation area will be named the St. Elizabeth Healthcare Simulation Center.
"The ongoing education and training for our staff and clinicians is of utmost importance to us," Colvin said.  "From our partnership with the Mayo Clinic to this investment in the Health Innovation Center at NKU, we are dedicated to providing best-in-class healthcare to our region. I believe this Center will be a model to be emulated across the country."
The high-tech simulation center will include simulation space, clinical skills suites, nursing skills suites, imaging suites, and classroom and collaborative spaces. It will also provide cutting-edge simulation equipment to help students learn real-world skills in a safe environment. The center will be outfitted with video recording capabilities to aid in the learning experience.
The gift is the first to the Health Innovation Center and the second-largest gift in NKU's 48-year history.
The Health Innovation Center is funded by a $97 million allocation from the Commonwealth of Kentucky. The project will include construction of a new facility and the renovation of Founders Hall, the second-oldest academic building at NKU.
The Health Innovation Center will offer a new, cross-functional educational experience where students and faculty from various colleges and disciplines will address population health management issues and seek new solutions to the health and wellness challenges we face today.  A committee of business and healthcare leaders from across the region has been contributing to the plans for the Center since 2014.
The Health Innovation Center is expected to open in 2018. A groundbreaking ceremony will be held this fall.