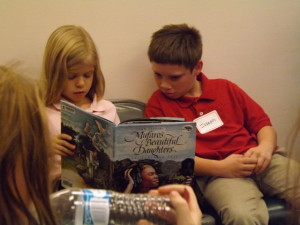 LEXINGTON, Ky. (Jan. 2, 2018) — Thanks to a matching grant from the National Endowment for the Humanities, Kentucky Humanities will be expanding PRIME TIME Family Reading Time to 40 Kentucky schools in 2018 and 2019.
Kentucky Humanities has been sponsoring the family literacy program at libraries throughout the commonwealth since 2004, hosting 204 programs in 81 counties. The NEH grant will allow the program to be expanded into Kentucky schools.
PRIME TIME Family Reading Time seeks to help parents learn to connect with their kids through reading. Each week, for six weeks, parents and their children gather for dinner, then engage with a professional storyteller and a scholar who read with them and discuss classic children's books centered around themes like fairness, greed, courage and dreams.
The program, targeted at reluctant readers who are six to 10 years old, has been shown to increase the frequency of reading at home among participating families, which in turn helps children become better readers and make greater gains in school.
Schools can apply to host the family reading program at: https://www.kyhumanities.org/primetimeforschools.html