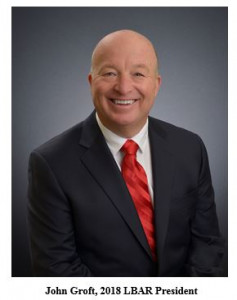 LEXINGTON, Ky. (Jan. 3, 2018) – John Groft is the 2018 president of the Lexington-Bluegrass Association of Realtors® (LBAR). Groft is associated with RE/MAX Creative Realty in Lexington.
The 2018 officers are president, John Groft; president elect, Al Blevins – Caswell Prewitt Realty, Inc and treasurer, Kristy Gooch –RE/MAX Elite Realty.
The 2018 Board of Directors include: Nancy Allison – DG Schell Real Estate;  Greg Back – Keller Williams Bluegrass; Ty Brown– Weichert, Realtors-Towne & Country; Greg Buchanan – ERA Select Real Estate; Anne Hart Cornett – Milestone Realty Consultants; Sha Fister – Rector-Hayden, Realtors; Mike Gooch – Gooch Auction Group & Realty Company; Alicia Huff – Bluegrass Partners Trust Realty; Todd Hyatt– Lois Ann Disponett Real Estate; Amanda Marcum – Berkshire Hathaway H S Foster Realtors; Randy Newsome – Twin Eagles Realty; Kelley Nisbet – Coldwell Banker McMahan; and Rusty Underwood – Milestone Realty Consultants.
As the region's leading advocate for homeownership, LBAR understands the value and joy of owning a home. LBAR represents more than 3,100 realtors located in Anderson, Bath, Bell, Bourbon, Clark, Clay, Elliott, Fayette, Franklin, Harrison, Jackson, Jessamine, Knox, Laurel, Menifee, Montgomery, Nicholas, Powell, Rowan, Scott, Whitley, and Woodford Counties. Visit www.lbar.com for more information.