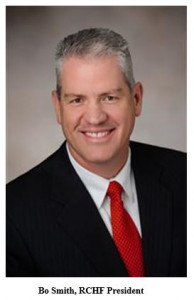 LEXINGTON, Ky. (Jan. 3, 2018) – Bo Smith is the 2018 president of the Realtor-Community Housing Foundation (RCHF).  Smith is associated with Keller Williams Greater Lexington.
The 2018 officers are president elect, Rusty Underwood – Milestone Realty Consultants; vice president, Tim Adams – Guardian Savings Bank; secretary/treasurer, Melinda Earlywine – Century 21 Commonwealth Real Estate; immediate past-president, Deni Hamilton – Coldwell Banker McMahan.
The 2018 RCHF board of directors include: Pat Borg – Weesner Properties, Inc. Cheryl Bromagen – Chase; Gesela Brown – First Security Bank; Greg Buchanan – ERA Select Real Estate; Amanda Marcum – Berkshire Hathaway H S Foster Realtors; Ed Moore – Community Volunteer; Becky Murphy – Charlie Murphy Real Estate; Maggie Napier – Napier Realtors; Will Puckett – PNC Mortgage; Jeff Rietze – Rector Hayden Realtors; and Joan Whitman – Whitman, REALTORS.
RCHF is a 501(c) (3) tax-exempt nonprofit organization incorporated in 1992 established by the Lexington-Bluegrass Association of Realtors® (LBAR). RCHF's goals are to empower families and strengthen neighborhoods by assisting homeowners in need to be able to stay in their homes and help make homes more accessible with the installation of ramps and/or other adaptations for low-income persons with disabilities and/or mobility impairments.