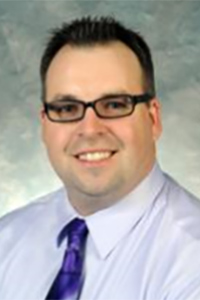 FRANKFORT, Ky. (Dec. 8, 2018) — Edwin Shouse, of Frankfort, is the new client relations manager for MML&K Government Solutions.
Shouse comes to the firm with nearly 15 years of experience in administrative support services, including 13 years with the Stewart Home School and two years at the Legislative Research Commission, where he worked with Sen. Ernie Harris, Sen. Mike Wilson, and Sen. Chris McDaniel.
In his new role, Shouse will work to increase operations efficiency, serve as a liaison with the Legislative Research Commission, perform research for the firm, and provide an administrative backbone for client relations.
Shouse has an associate degree in business from Indiana Wesleyan University. He volunteers with Raptor Rehabilitation and the Kentucky Wildlife Center. He has also been a Special Olympics Kentucky volunteer and coach; he has coached over 200 Special Olympics athletes in basketball, flag football, softball, bowling, track, soccer and swimming.
"Edwin brings vast experience in administrative support that will greatly augment our ability to serve clients," MML&K Director Sean Cutter said. "We are absolutely thrilled to welcome this charismatic individual to our team."
MML&K Government Solutions is a practice of excellence with nearly a quarter century of diverse, bipartisan experience. MML&K employs 12 full-time government relations professionals, each bringing different competencies to the firm's government relations practice in the areas of healthcare, technology, appropriations, taxes, banking, insurance, education, transportation, energy, procurement, association management and strategic public relations.
MML&K Government Solutions is an affiliate of McBrayer, McGinnis, Leslie & Kirkland, PLLC, a leading firm with offices in Lexington, Louisville, Frankfort, Greenup, and Washington, D.C. For over 50 years, the law firm has provided successful representation to businesses and professionals throughout Kentucky, surrounding states and nationwide.
The firm is Kentucky's exclusive member of the National Association of State Lobbyists and in the State Capitol Global Law Firm Group, an international network of law firms in each U.S. State Capital and more than 60 countries worldwide.